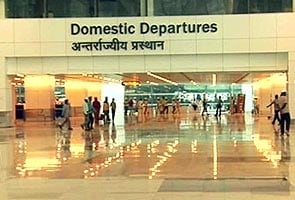 New Delhi:
Chaos broke out at the swanky new Terminal 3 of the Indira Gandhi International Airport on Sunday as large number of passengers angered by delays in Air India flights raised slogans against the national carrier due to which many flights were affected.
Passengers of a Dubai bound Air India flight were agitated and started abusing the airlines staff by taking over the public address system near gate number 22 and 24.
The passengers, who were angered by delays of Air India flights - AI 841 and 895 - also shouted slogans against the national carrier and wanted to know why there were inordinate delays in flights.
The passengers were also angry as they did not receive baggage for hours after their flight landed at the Airport.
Passengers of AI-201 New York-Delhi alleged that they waited for three to four hours to receive their baggage. They complained that the conveyor belt was not functioning.
Airline officials refused to comment on the issue, but sources say the delay was because of operational reasons like air traffic control procedure, air traffic management procedures and non availability of parking bays.
So far, there are three flights of Air India that have been delayed by at least 2 hours.
Ever since Air India shifted some of its domestic operations to the terminal, there have been delays in the flight schedule. (With PTI inputs)