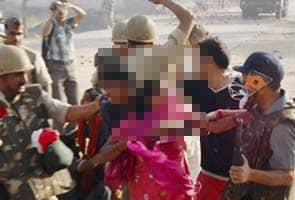 Aligarh:
The Aligarh police have suspended three cops, including a Circle Officer seen on camera manhandling a woman whose six-year-old daughter was found dead in a garbage dump yesterday. But their senior soon proved how pervasive insensitivity is in the force when he said, "How can you or we decide this? Did the girl's relatives see her being raped?"
Aligarh's Senior Superintendent of Police (SSP) Amit Pathak was addressing a press conference when he said this last night. An autopsy report later confirmed that the child was sexually assaulted. A murder case has been registered and the police said the charge of rape was likely to be added today.
Additional Director General, Aligarh, today termed these comments "very unfortunate". "A senior official should not have made these comments. He has expressed regret. The DIG also asked to probe this, we will decide what action to take after probe report is out," said Mr Arun Kumar.
The child's body was found on Thursday morning and in a few hours, nearly a hundred protestors had gathered in the neighbourhood shouting slogans against the police. Some of the protesters allegedly threw stones at the cops.
The cops used batons on the crowd, and attacked the girl's parents, dragging the mother on the ground. About 30 people were reportedly injured.
The Deputy Inspector General of the Aligarh Division, D Prakash, acknowledged yesterday that "unnecessary force was used on protesters". The SSP's remarks are also being probed.
The police have said an enquiry will be completed in three days.
Aligarh is in Uttar Pradesh, about 330 km from capital Lucknow.