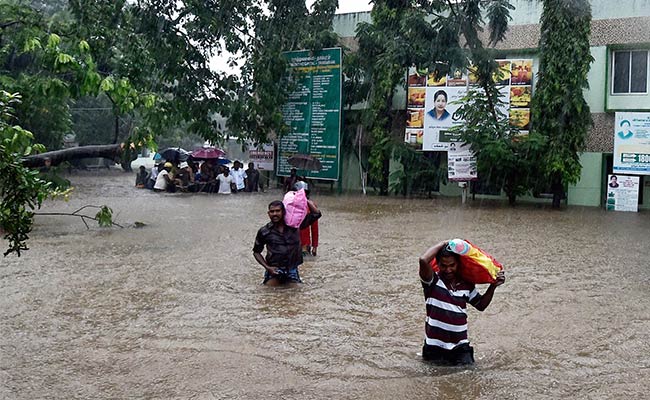 New Delhi:
It wasn't just water that filled the streets of Chennai. Help poured in from all sides too as record breaking rainfall threw life out of gear in the city, delaying trains, stranding thousands on the roads and shutting down the airport.
As reports of people stuck in unprecedented rain were shared in the media and on Twitter, the people of Chennai opened their hearts and homes for strangers. Soon, #ChennaiRainsHelp was also trending with #ChennaiRains on Twitter.
People contacted NDTV offering from food packets to clothes to accommodation for those in need, as they took to the streets to help out.
"We're trying to help people in the locality of Vepery, Pursawakkam. Do let me know if you know someone who's in need of food and stuff. We're a small team but yet trying our best to help. Thanks," said a message from Sonik Roonwal.
Others took to Twitter announcing all kinds of help. "Ping me your mobile number of you are running out of balance and need to contact your people, I'll recharge," tweeted Bhupesh. So did many others.
#chennairains#ChennaiHelpshttps://t.co/TMx5f7eQjY

— Sound Avtar (@SoundAvtar) December 1, 2015
Chinmaya Vidyalaya, a school in the Virugambakkam area, announced it would accommodate people stranded due to the rain on its premises. Many cinema halls and malls across the city announced on the microblogging site that they would be open for the night. All that people needed to get in was an identification card. Residents chipped in by opening the doors of their homes.
Awesome Chennai people offering shelter opening up their homes for rain/flood affected. See #chennairains#ChennaiRainsHelp for locations

— meetasengupta (@Meetasengupta) December 1, 2015
Some, began preparing food packets and put out requests for volunteers to take them out to the hungry and stranded.
Friend's friend is cooking food for 300 ppl, and wants a few extra hands to help out. Saritha, Besant Nagar - 9600045320
#ChennaiRainsHelp
— Subadra (@SoBadRa) December 1, 2015
The T nagar Jain Temple on GN Chetty Road has announced it will have 5000 packets of food ready for tomorrow's breakfast and lunch.