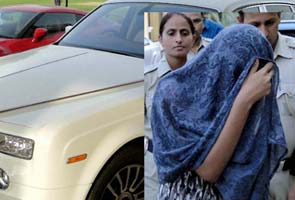 Chennai:
South Indian actress Leena Maria Paul, wanted in connection with a cheating case and arrested from Delhi recently in a joint operation by Delhi Police and Chennai crime branch officials, was today brought to Chennai for further interrogation.
She was likely to be produced before a court later, police said. She is wanted for allegedly cheating a Chennai bank of Rs 19 crore.
The actress and her male friend were arrested on Tuesday from a south Delhi farmhouse where they were hiding.
Their four personal security officers, including three ex-servicemen, were also arrested in a joint operation from Khari Farms in Fatehpurberi.
Leena Paul, who acted in national award winner Mohanlal-starrer 'Red Chillies' and other films, and her friend Balaji, who is absconding, were allegedly involved in a case registered under sections 420 (cheating), 120B (criminal conspiracy) and 406 (breach of trust) of the Indian Penal Code.
She has also starred in Madras Cafe, Husbands in Goa, Cobra and Red Chillies.
Nine expensive cars and 81 expensive Wrist watches were recovered from the accused in Delhi.