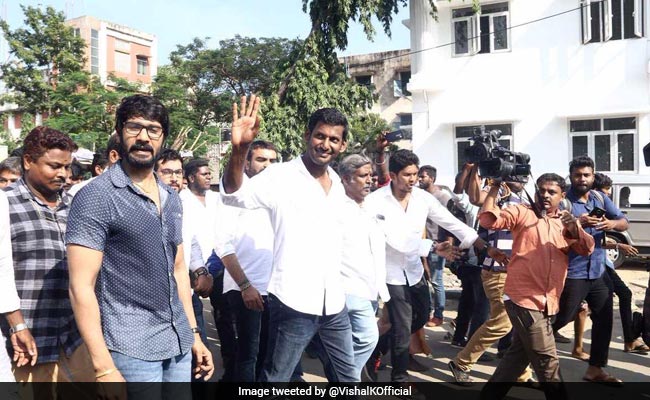 Highlights
He was disqualified from contesting the RK Nagar by-election
Met Tamil Nadu's chief electoral officer, urging to reconsider decision
Vishal's entry into the fray was seen as a danger sign for AIADMK
Chennai:
Actor Vishal, disqualified from contesting the RK Nagar by-election in Tamil Nadu, tweeted President Ram Nath Kovind and Prime Minister Narendra Modi on Wednesday, saying he hopes "justice prevails." He addressed them as "To the people I look up to," and said he was bringing to their notice the fact that his nomination for the December 21 by-election was "first accepted and later rejected."
"Totally unfair," said the popular actor, who is not giving up. He met the state's chief electoral officer on Wednesday and urged him to reconsider the decision. He also plans to meet Tamil Nadu's Governor Banwarilal Purohit to "lodge a complaint," he said.
To the people, I look upto, Hon @narendramodi & Hon @rashtrapatibhvn

I am Vishal,I hope u r aware of wats happening in the RK Nagar Election process in Chennai.

My nomination was accepted & later rejected. Totally unfair. I bring this to your notice & I hope justice prevails.

- Vishal (@VishalKOfficial) December 6, 2017
Late last night he had tweeted: "5th Dec 2016, #Amma died, 5th Dec, 2017, #Democracy died...."
On Tuesday, Vishal has said, he was first told that his nomination papers had been rejected, then that they had been accepted and then finally late into the night, rejected again.
In a dramatic protest
the actor sat on the road in front of the returning officer's office on Tuesday evening.
Officials have said that the film actor's nomination papers only had "valid" signatures of eight proposers, not the 10 needed. Two people listed by Vishal in his form as proposers had complained that their signatures had been forged, they alleged.
"If two people made a complaint that signatures were forged then they should have addressed that in front of the candidate... they should asked me... accepting one side of the argument is not right," Vishal said, adding that, "I'm not disappointed that I'm not going to contest an election. I'm disappointed in the entire system right now. They need to give a proper answer; they can't just give me a letter."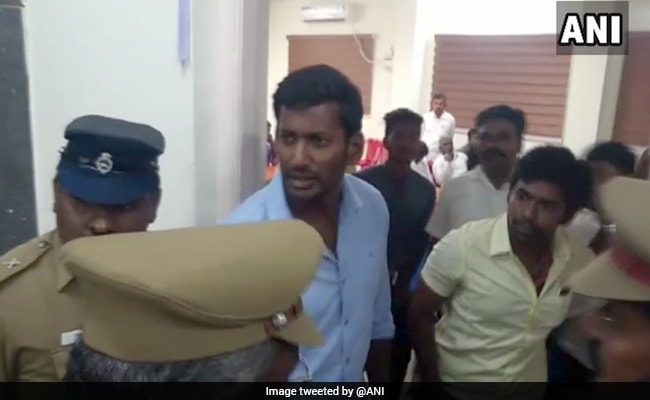 He has released an audio tape that he alleged proves that one of the two persons was coerced to withdraw her consent to his papers, allegedly by ruling party AIADMK. The election commission said it could not ascertain if the recording was genuine.
Vishal
hoped to launch his political career
with the by-election to the RK Nagar assembly seat in Chennai left vacant by the death of J Jayalalithaa as Tamil Nadu Chief Minister in December last year.
The contest is a
prestige battle for the AIADMK
, which has fielded a senior leader, E Madhusudhanan, who has represented RK Nagar before in the state assembly and is seen to have influence among Telugu people, who make up a sizeable chunk of voters.
Vishal's entry into the fray was seen as a danger sign for the AIADMK as he belongs to Andhra Pradesh and so could've cut the Telugu votes.
The nomination papers of Ms Jayalalithaa's niece Deepa Jayakumar were also rejected on Tuesday.
Also contesting the RK by-election are sidelined AIADMK leader TTV Dhinakaran as an independent candidate, and the DMK's Marudhu Ganesh, an RK Nagar local, seen as the man to beat.
The DMK wants to win RK Nagar to bolster its claim that the ruling party has lost popular support after the death of Ms Jayalalithaa.