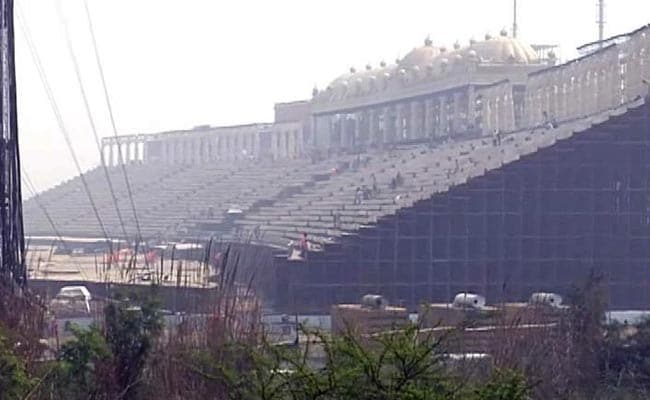 New Delhi:
A mega cultural event organised by Sri Sri Ravi Shankar's Art of Living foundation on the banks of the river Yamuna appears to be on shaky ground with just three days to go. A green court today questioned who cleared the event and is expected to decide tomorrow whether it will be held at all.
Here are the 10 latest developments in this story:
The Delhi government told the National Green Tribunal that the event has no police or fire safety clearances.

Over 1,000 acres on the river banks have been converted into a makeshift village for Art of Living's three-day World Cultural Festival that will feature yoga and meditation sessions, peace prayers and cultural performances.

A seven-acre stage has been set up for over 35,000 artistes and visitors from 150 countries. Art of Living has denied any major construction on the river banks but bridges and mobile towers have been built and dirt tracks and a parking area are also coming up, according to a blueprint accessed by NDTV.

Environmentalists argue that the festival will do serious damage to the delicate ecosystem of the river Yamuna and cause irreversible damage to the flood plains.

Hearing a petition against the festival, the green tribunal asked the Environment Ministry: "If somebody has to alter the flood plains, don't you think it requires your clearance? To protect the river is your prime responsibility, what steps did you take to prevent damage?"

The tribunal also had tough questions for planning body Delhi Development Authority, which argued that "heavens won't fall" if the event is allowed, since "we are at the threshold of the ceremony."

Art of Living claims that it has more than 20 approvals for the event. "We will create a biodiversity park here. I have not let anyone cut even one tree," said Sri Sri Ravishankar.

There are also questions about the number of people attending the event. Art of Living claimed that it expects two lakh people, but the court said posters had talked of 35 lakh visitors.

Prime Minister Narendra Modi is to open the festival on Friday and so far, his office has not said anything different. Sri Sri, once ranked by Forbes magazine as India's fifth most powerful person, is seen as close to PM Modi and the pair have meditated together.

President Pranab Mukherjee, who had earlier agreed to attend the opening along with the PM, conveyed on Monday that he will not be present.