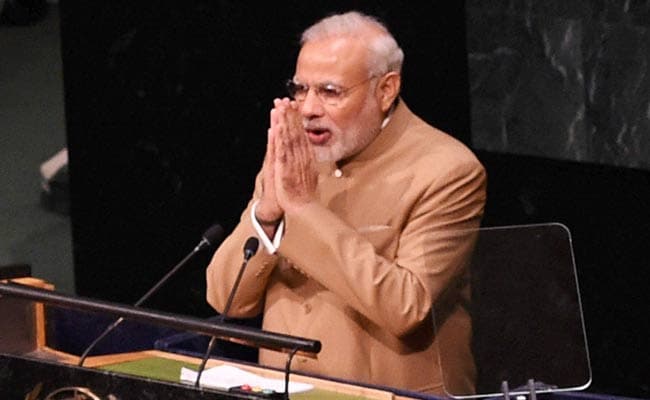 New York:
Prime Minister Narendra Modi addressed the United Nations General Assembly in the US today. He is among more than 150 world leaders attending the UN summit to formally adopt new global development goals for the next 15 years that aim to end poverty and improve lives.
Here are the Top Ten quotes:
Mahatma Gandhi had spoken about caring for a world that we will not see.

The world is connected and dependant on each other. Our international partnerships need to be centred on the progress of humanity.

We must reform the United Nations including its Security Council so that it carries greater credibility and legitimacy.

Since we attained freedom, we have focussed on ending poverty. Education and skill development are priorities for us.

We are all dreaming of a world that is free from poverty.

We are working on financial inclusion in a very big way.

The world must be free and development must be sustainable.

The world talks of public and private sector. We are looking at the personal sector. This means individual enterprise, innovation.

When we think of climate change, somewhere we try to safeguard our personal interests. But if we talk of climate justice, we spontaneously resolve to keep the poor safe during natural disasters.

I come from a land where the Earth is our mother. We are her sons. We see the entire world as one family.