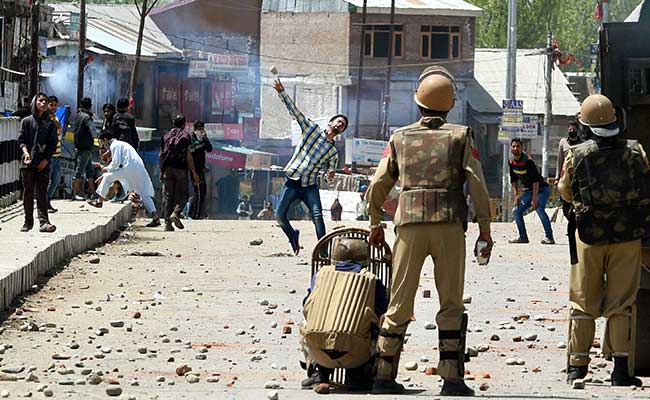 Srinagar:
A teenager died and two persons were injured in Kashmir's Budgam today after clashes broke out between protesters and police. In the evening, two policemen, one of them an assistant sub-inspector, were arrested. The state government has also ordered a magisterial inquiry into the death. Kashmir, which saw protests for the second consecutive day following the arrest of hardliner Masarat Alam, was shut down following a strike call by separatist leaders.
Here are the 10 latest developments:
The boy killed was 16-year-old Suhail Ahmad, a student of Class 10. Earlier, the police, following a preliminary inquiry into the death, said security forces had violated operating procedures. Sources said it was the police who had opened fire after receiving instructions from the ASI.

Massive protests were held in Budgam after the news of the boy's death spread, during which the police opened fire, injuring two persons. The police said they had used pellet guns to disperse the crowd.

In the afternoon, Jammu and Kashmir Liberation Front (JKLF) chief Yasin Malik and Swami Agnivesh were detained as they were on their way to visit Naubal.

Today's strike was called by hardline Hurriyat leader Syed Ali Shah Geelani and other separatist groups to protest against the death of a young man in Tral - allegedly during an encounter - earlier this week. Mr Geelani, who had planned to hold a march there on Friday, has been placed under house arrest.

Several other separatist leaders - including Hurriyat Conference's moderate chairman Mirwaiz Umar Farooq - were placed under house arrest today.

This is the second consecutive day of protests in Kashmir - yesterday 24 people were injured as demonstrations were held in several places against the arrest of Masarat Alam.

Masarat Alam was arrested for leading a rally in Srinagar earlier this week to welcome his ideological mentor Mr Geelani, during which Pakistani flags were waved and pro-Pakistan slogans were raised.

Amid nationwide outrage, Home Minister Rajnath called up Chief Minister Mufti Mohammad Sayeed and demanded "immediate and stringent action".

Masarat Alam has been charged with sedition and waging war against the country and remanded in police custody for a week.

Masarat Alam, 45, is accused of organising stone-throwing protests in the Valley in 2010, during which more than 100 people died in police firing. His release became a flashpoint in the alliance between the PDP and BJP, which had struggled to bridge an ideological divide.