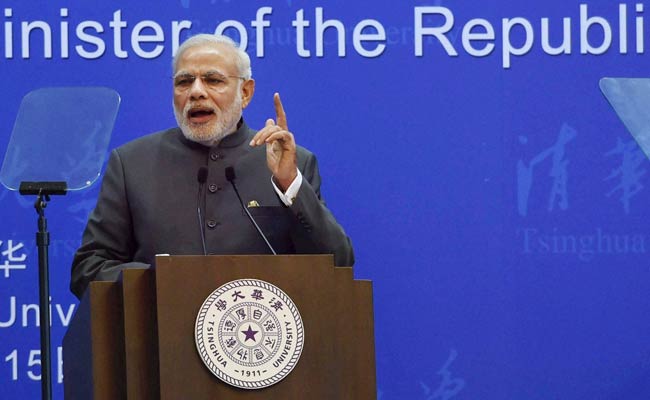 Beijing:
Prime Minister Narendra Modi today addressed students at Beijing's Tsinghua University and spoke about the shared history of the two countries in spiritualism, learning, art and trade.
Here are points from PM Modi's speech
India is now the next frontier of the economic revolution. We have the demography for it. About 800 million people in India are below the age of 35 years. Their aspirations, energy, enterprise and skills will be the force for India's economic transformation. We now have the political mandate and the will to make it happen.

We will make sure that land acquisition does not become a barrier to growth or a burden on farmers.

We both face instability in our shared neighbourhood that can threaten our security and slow down our economies.

The spreading tide of extremism and terrorism is a threat we both face; for both, its source is in the same region.

First, we must try to settle the boundary question quickly. We both recognise that this is history's legacy. Resolving it is our shared responsibility to the future. We must move ahead with new purpose and determination.

The solution we choose should do more than settle the boundary question. It should do so in a manner that transforms our relationship and not cause new disruptions.

A shadow of uncertainty always hangs over the sensitive areas of the border region. It is because neither side knows where the Line of Actual Control is in these areas.

We must ensure that our relationships with other countries do not become a source of concern for each other. And, wherever possible and feasible, we should work together as we did in responding to the earthquake in Nepal.

China's support for India's permanent membership of a reformed UN Security Council, and for India's membership of export control regimes like Nuclear Suppliers Group will do more than just strengthen our international cooperation.

We must seek inspiration from the pilgrims of the ancient times, who braved the unknown in search of knowledge, and enriched us both. So, we have decided to extend electronic tourist visas to Chinese nationals.