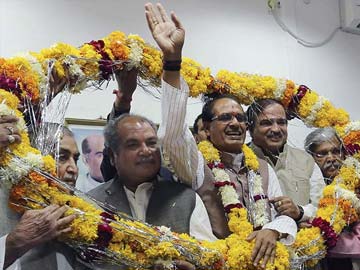 Bhopal:
Shivraj Singh Chouhan was re-elected for a third term as the chief minister of Madhya Pradesh today, giving his party, the BJP one of its two mega-hits today (the other was a landslide win in Rajasthan).
10 facts about the BJP heavyweight, who's called "mama" (uncle):
Mr Chouhan, 54, has consistently shirked comparisons to Narendra Modi, the party's candidate for prime minister. He told NDTV that they have very different styles of functioning. Both are credited with effective governance and the development of their states.

Mr Chouhan is seen as a much more secular leader than Mr Modi. On Eid, he has been known to greet Muslims wearing a skull cap.

A club of Mr Modi's detractors led by LK Advani tried unsuccessfully to position him as a potential prime ministerial candidate. Mr Chouhan himself said he was not interested in the top job, or in the league of Mr Modi, who he referred to as his older brother.

13 of his ministers were linked to corruption scandals, but in an election where corruption scandals appear to have cost the Congress, Mr Chouhan's own clean image appears to have paid rich dividends.

He enrolled as a volunteer with the Rashtriya Swayamsevak Sangh (RSS) in 1972.

He was imprisoned in the Bhopal Jail from 1976-77 during the Emergency.

Mr Chouhan is a gold medalist in Masters of Philosophy from Barkatulla University, Bhopal.

He replaced Babulal Gaur as Chief Minister on November 29, 2005, who took office after fiery sanyasin-politician Uma Bharti resigned in 2004.

He has represented the constituency of Vidisha five times in parliament.

His wife Sadhana Singh is known to be a major influence on his decisions. They have two sons.