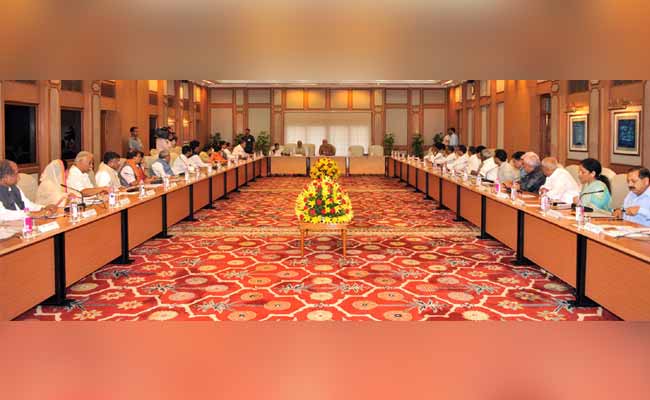 New Delhi:
The government was today asked by President Pranab Mukherjee to explain why it felt Arunachal Pradesh needs central rule. The Congress, which rules the state, has challenged the government's decision in the Supreme Court. The court will take it up on Wednesday.
Here are the latest developments:
The President reportedly asked Home Minister Rajnath Singh whether there was a breakdown of law and order in the state. "Why the urgency?" Mr Mukherjee reportedly wanted to know.

Hours later, the President asked a Congress delegation why the party's government in the state put off calling an assembly session for six months.

The Centre's recommendation came after a meeting on Sunday chaired by Prime Minister Narendra Modi. Sources say the government told the President that the situation in the state has "severely deteriorated".

The Congress has accused the BJP of trying to destabilize every state where it is not in power. Targeting the prime minister, Rahul Gandhi said: "Modiji you talk about federalism but murder democracy. You talk about cooperation but use every means to coerce. The Congress will fight this attack on our Constitution, on people's mandate."

Crisis erupted in Arunachal Pradesh on December 16 after 21 rebel Congress lawmakers joined hands with 11 BJP and two independent members to "impeach" Speaker Nabam Rebia at a makeshift venue.

The Congress alleges that Governor JP Rajkhowa acted as a "BJP agent" and helped its rebel lawmakers by calling an assembly session a month ahead of time on December 15.

Chief Minister Nabam Tuki and the 26 lawmakers supporting him in the 60-member assembly boycotted the session calling it illegal and unconstitutional.

A day later, the rebels and opposition lawmakers gathered at a hotel to "vote out" the Chief Minister and elect his replacement. A no-confidence motion moved by BJP and independent lawmakers was adopted in proceedings chaired by Deputy Speaker T Norbu Thongdok, who is also a Congress rebel.

The Gauhati High Court first put on hold the decisions taken at the rebel "session". As it dismissed the Speaker's petition later, he moved the Supreme Court, which has referred the case to a Constitution bench.

Delhi Chief Minister Arvind Kejriwal and Bihar Chief Minister Nitish Kumar also criticised the Centre in tweets. "Union Cab recommending Prez rule in Arunachal shocking. Murder of Consti on Rep D eve. BJP lost elections.Now acquiring power thro back door (sic)," Mr Kejriwal tweeted.