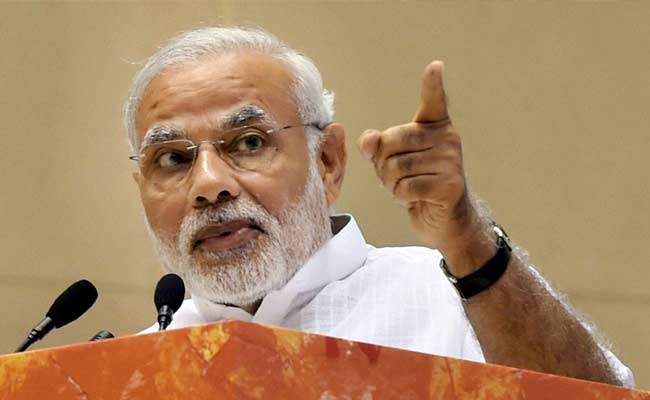 New Delhi:
Prime Minister Narendra Modi has unveiled long-awaited labour reforms, emphasising that "ease of business is essential to the success of 'Make in India,' his government's mega plan to turn India into a manufacturing hub.
Following are the top 10 developments:
The measures announced today simplify employment rules and smooth the way for people to move social security funds when they change jobs. They also provide for an improved pension and minimum salary grade.

The PM said, "Shramev Jayate (labour triumphs) has the same power as Satyamev Jayate (truth triumphs) does for the development of our nation." Labour problems, "he said, must be seen through the eyes of the shramik (worker) not industrialists."

Archaic labour laws have strictly regulated hiring and firing, while an onerous "Inspector raj' or rule of inspectors has deluged employers with paperwork, discouraging them from expanding and taking on new staff.

"Fifty types of departments chase them, 50 types of forms have to be filled in. The world has changed," Mr Modi said, adding that companies would now only need to fill a single form online. A new website, managed by the labour ministry, will allow companies to fill forms online and raise their grievances.

The change would chiefly benefit firms that employ just a few employees, he said. In 2009, 84 percent of India's manufacturing workers were employed by firms with fewer than 50 workers, research by the Asian Development Bank shows.

Mr Modi also promised easier movement of accounts in the Provident Fund scheme by using a universal account number. The payroll-funded programme has 80 million members.

Because transfers are so difficult, more than Rs 27,000 crores ($4.4 billion) lie idle in such accounts. "I need to return this money to the poor," the prime minister said. "The world asks, 'What is Modi's vision?' They will see it in this effort," he said.

Inspection of businesses will be made more transparent, with a computer lottery being used to pick the enterprises to be inspected and officials required to upload a report within 72 hours, PM Modi said. Right now, units for inspection are selected locally, without any objective criteria, allowing inspectors to harass unit owners and even exploit them in cases of violation of rules.

The World Bank says India has one of the world's most rigid labour markets, but fears of a trade union backlash and partisan politics have deterred successive governments from reform measures. Business leaders have high hopes that Mr Modi, an advocate of smaller government and private enterprise, will change that.

Industry body ASSOCHAM said it complimented the "government for initiating the labour law reforms as it will create a conducive environment for growth of trade and Industry and bring transparency in social security benefits to help workers."
Post a comment