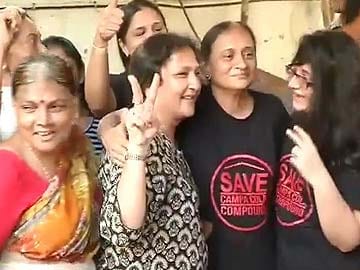 Mumbai: In a major relief to over 100 families at Mumbai's Campa Cola Society, the Supreme Court today put on hold the demolition of their illegal flats and said it would consider a proposal for a new building to accommodate evicted residents. Residents had fought bitterly to protect their homes and clashed with policemen who tore down their locked gates and entered the complex earlier.
Here are the latest developments:
"We feel some more time should be given to vacate the premises. We are passing these orders suo motu after reading newspapers," the top court said, giving residents a new deadline of May 31. Many saw it as a major reprieve to explore other options.

Many families had watched helplessly, having lost every legal battle, as civic officials brought in bulldozers and started work on demolishing the illegal flats in the high-rise complex in south Mumbai.

On Tuesday, the officials disconnected water, electricity and gas supply to flats that had already been vacated by their owners.
Officials say they will keep returning every day to ensure that the Supreme Court's order to demolish 102 illegal flats in the compound is followed. The court's deadline to vacate the flats ended on Monday.
Residents of these illegal flats say they were duped by builders. They have protested for years and tried to get the courts or politicians to regularise their flats.
They have asked Maharashtra Chief Minister Prithviraj Chavan to bring an ordinance - or an executive order - to save the homes.
"The Maharashtra chief minister must state his intent and ability (or legal inability) to help," tweeted Milind Deora, the Congress MP from Mumbai South. Politicians from all parties have lent their voice to the emotive battle playing out in south Mumbai ahead of the Maharashtra polls next year.
Seven high-rises were constructed at what is called the Campa Cola Compound, between 1981 and 1989. The builders had permission for only five floors, but constructed several more. One of the buildings, Midtown, has 20 floors. Another building, Orchid, has 17.
The residents have been fighting a legal battle since 1999, when they first went to the Bombay High Court for water supply and regularization. The court asked the BMC to investigate, and the civic body served demolition notices for all flats constructed above the fifth floor, which it said were illegal.

Earlier this year, the Supreme Court upheld the High Court's order and gave residents a November deadline to vacate the flats.