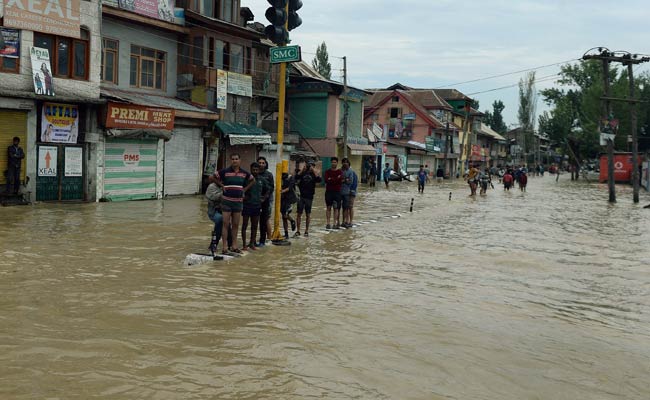 Srinagar:
Over five lakh people are still stranded in flood-ravaged Jammu and Kashmir and Prime Minister Narendra Modi has asked for rescue and relief operations to be ramped up after being briefed at an emergency meeting last night. Almost 200 people have died in the state's worst floods in decades.
Here are the 10 latest developments in the story
On ground in Srinagar, the Army is now focusing on pumping water out in places where it is stagnant, to reach those trapped. In other places flood water is now receding. Restoring communication and connectivity in the state remains another big focus area - BSNL phones began working on Wednesday.

Jammu and Kashmir chief minister Omar Abdullah will make an aerial survey of his state today, amid criticism from the people that while the Armed forces have been engaged in hectic rescue work, the civil administration has not done enough to help them.

PM Modi has directed the Home Ministry to immediately depute senior officers from Delhi and other states to coordinate relief operations with the local administration. He has emphasized on the need to reach food and essentials to those stranded, and ensure basic hygiene and sanitation in water-logged areas.

There are also concerns about the potential spread of water-borne diseases. 80 medical teams of the Armed Forces Medical Services have swung into action. The Army has also set up medical camps and said their doctors are treating 200-300 people every day.

People still marooned on rooftops or clinging to trees for days are now in dire need of water and food. "We want food and water urgently. Please save us," pleaded Meena Ahmed, who, along with her family members, has been stranded in Qayoom Colony in Rawalpora for the past five days.

Nearly 80,000 people have been rescued so far in a non-stop, tireless operation by the armed forces and the National Disaster Response Force or the NDRF. Over 20,000 army personnel are carrying out relief operations. 715 tonnes of relief material have been air dropped.

The seething anger against the alleged delay in the rescue operations was palpable on Wednesday when Army vehicles, loaded with supplies including water and food, were pelted with stones as they tried to make their way through Srinagar.

Chief Minister Abdullah has claimed that before the heavy rains began late last week, warnings were announced at mosques and from police vehicles, urging residents to move to higher ground. "I am sorry to say that they willingly ignored these warnings...choosing to stay where they are," Mr Abdullah said.

The Election Commission has postponed a two-day trip to the state to discuss assembly polls, expected to be held late in December. The floods may delay the election process, said an EC official.

With rain having stopped and water receding, the extent of devastation is becoming more evident. In the Jammu region, people returned to their villages to find homes destroyed and crops washed away.