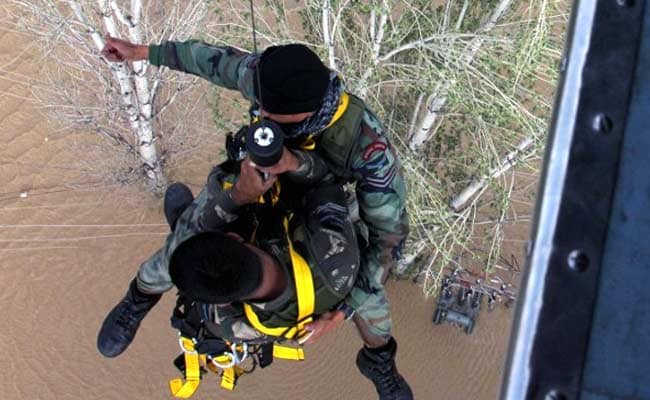 Srinagar:
The Indian Air Force has scaled back for the day, rescue operations that involve winching up stranded people into helicopters, after angry residents pelted stones at their choppers in several areas of flood-hit Srinagar today. Security forces believe separatist elements are provoking crowds, sources said.
Here are the 10 latest developments in the story
Tempers have flared since Wednesday, with residents angry that relief efforts are reaching them six days after the floods, the worst in the state in over a century, began. Others have complained about living conditions in temporary camps.

Most of the anger is directed against the Omar Abdullah government in Jammu and Kashmir, with people accusing it of being short on assistance in a crisis. But some anger has spilled over and Air Force helicopters and Army vehicles loaded with supplies including water and food and making their way through Srinagar, have been pelted with stones.

"We have re-oriented rescue operations since many people don't want to leave their homes. I am not in the credit game. Let all the credit go the armed forces. If people want to blame my government so be it, won't be dragged into that debate," Mr Abdullah told NDTV today.


Nearly five lakh people are still stranded in the state; 200 have died in the floods. After being briefed at an emergency meeting last night, Prime Minister Narendra Modi asked for rescue and relief operations to be ramped up.

Rescue work has been made more complex by some people reluctant to leave their homes now that the flood water is receding. Rescuers want all people evacuated as there are concerns about the potential spread of water-borne diseases.

PM Modi has emphasized on the need to reach food and essentials to those stranded, and ensure basic hygiene and sanitation in water-logged areas. "In certain areas people are reluctant to leave their houses and therefore apart from rescue operations, we are also trying to send food, water and medical supplies to those who want to stay home," a senior official said.

Rain has now stopped and water is receding in some areas. Where it has not receded, the Army is pumping water out to reach those trapped.

In Srinagar, most hospitals are inundated. When NDTV visited one of the few functional hospitals in the city, doctors said they urgently need more medicines and equipment to cater to patients, who were even being treated on floor because of lack of enough beds. The Army has also set up medical camps and said their doctors are treating 200-300 people every day.

One lakh ten thousand people have been rescued so far in a non-stop, tireless operation by the armed forces and the National Disaster Response Force or the NDRF. Over 20,000 army personnel are carrying out relief operations. 807 tonnes of relief material have been air dropped.

Restoring communication and connectivity in the state remains another big focus area - BSNL phones began working on Wednesday. The Border Roads Organisation is also working relentlessly to restore road links.