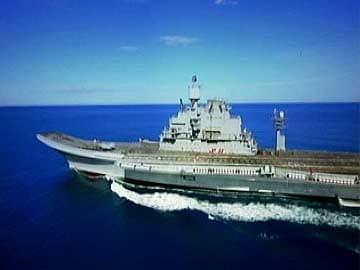 New Delhi:
After almost a decade of negotiations and reconstruction, the super aircraft carrier INS Vikramaditya will formally join the Indian Navy today. By early next year, it will be out patrolling the Indian Ocean.
Here are 10 facts about the navy's largest warship:
Originally built as the Admiral Gorshkov in the Soviet Union, the super aircraft carrier has been refurbished. It weighs 40,000 tonnes and will be the biggest and heaviest ship to be operated by the Indian Navy.

India agreed to buy it in 2004 for $974 million. The cost kept shooting up. Russia delayed the delivery by over five years.

A fleet of warships will escort the INS Vikramaditya on its way from Russia to the Kochi naval yard. Once it reaches India, it is meant to be equipped with Israeli Barak missiles.

The INS Vikramaditya is 284 metres long and 60 metres high - that's about as high as a 20-storeyed building.

It can carry 24 MiG-29 fighter jets and 10 helicopters at a time, and can sail nearly 1300 kilometres a day.

It can operate for 45 days without replenishment and will be manned by about 1600 people. Just the crew is expected to use over one lakh eggs, 200,000 litres of milk and over 16 tonnes of rice every month.

India joins a select group of nations and the only one in the Indian Ocean region to operate two aircraft carriers at the same time. The only aircraft carrier currently in use - INS Viraat - is reaching the end of its useful service.

Till now, India was policing the Indian Ocean region from the Gulf of Malacca in south-east Asia to the Gulf of Aden in the north with just the INS Viraat. The addition of the INS Vikramaditya to India's fighting fleet is widely being projected as a game changer.

The new carrier joins the navy at a time when the Indian Ocean region is becoming a highly-militarised zone. Admiral Sekhar Sinha, Commander in Chief, Western Naval Command said, "A second carrier will immensely increase India's reach and ability to project force. We can now have a carrier each for the eastern and western seaboards of India."

India is also building its first indigenous aircraft carrier, the INS Vikrant, in Kochi, which is expected to join the navy in 2018-19.
Post a comment