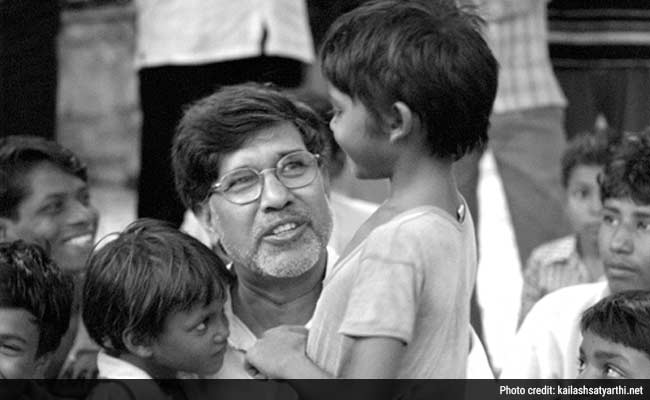 New Delhi:
Kailash Satyarthi, 60, won the Nobel Peace Prize on Friday along with Pakistani teen Malala Yousafzai.
Here are 10 facts about his life and work:
He belongs to Vidisha in Madhya Pradesh. Trained as an electrical engineer, he turned into an activist for children's rights at the age of 26.

As a boy, he was moved by other children who had to work, and whose parents were too poor to send them to school. He started a football club with membership fees paying the school fees of needy children.

He and a friend collected donations of 2,000 schoolbooks in a single day, a project that eventually became a book bank in his home town.

"If not now, then when? If not you, then who? If we are able to answer these fundamental questions, then perhaps we can wipe away the blot of human slavery," Mr Satyarthi has said, summing up his philosophy.

In 1983, he founded the Bachpan Bachao Andolan (Save the Childhood Movement) to fight child labour. His efforts have helped rescue thousands of children from bondage, trafficking and exploitative labour.

With the help of NGOs and activists, he has organized hundreds of raids on factories and warehouses where children were being made to work.

He created "RugMark", a scheme which certifies that carpets and rugs sold abroad have been made without the labour of children. The initiative turned out to be highly successful in raising international awareness about children's rights.

In 1998, Mr Satyarthi was chairman of a global march against child labour that wound through more than 60 countries around the world. Children rescued from jobs in Asia, Africa and Latin America were among more than 1,000 people who ended the march in Geneva, at a conference of the International Labour Organisation (ILO).

A year later, the ILO approved an accord designed to protect children from jobs that expose them to danger or exploitation.

After Narendra Modi was elected Prime Minister, Mr Satyarthi tweeted, "A tea-boy dares his detractors by becoming the PM of India. Now it's his turn to ensure that no child is forced to become a child labourer."