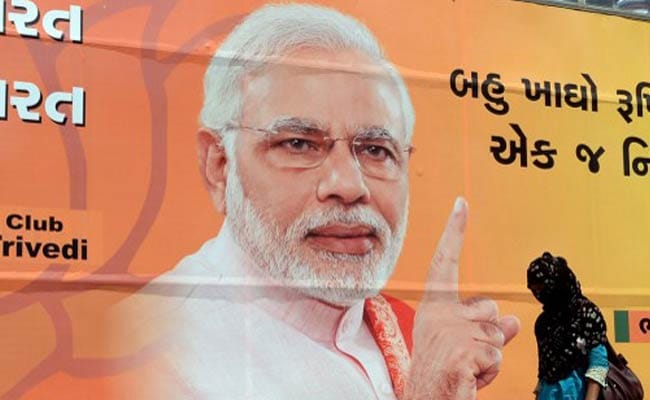 New Delhi:
Voters have given the BJP and its prime ministerial candidate Narendra Modi a mammoth mandate for running the next government. Results announced today after the five-week election contest gave the BJP a commanding lead for at least 272 of 543 seats in parliament. This is the first time in three decades that any single party in India has won a clear majority. Some of the factors that played into the BJP's decisive victory over India's dynastic Congress party:
5 Factors that Helped BJP and Modi Win the Election
FIXING THE ECONOMY: India's once-impressive economic growth, averaging above 8 per cent over the last decade, slowed to below 5 per cent in the last year while inflation rocketed into double digits. The BJP and Narendra Modi maintained a laser focus on the economy throughout the campaign, hammering the Congress party for stalled development projects while touting Modi's state of Gujarat as a model of success. In fact, Gujarat's growth has been mediocre compared with others of India's 28 states. But Modi's message resonated with an electorate aching for change and upward mobility, and India's corporate leaders backed Modi as a decisive administrator needed to revive industrial growth. (Contenders 2014: The Making of 'Modi Wave')


COMBATING CORRUPTION: A slew of massive corruption scandals involving public funds and resources battered the Congress-led coalition. Anti-graft protests inspired a fierce anti-incumbency wave among voters and inspired the launch of Arvind Kejriwal's Aam Aadmi Party or AAP. In his campaign, Mr Modi has said he will serve as a "chowkidaar" or watchman, vowing he will expunge corruption from the government and bureaucracy. (Your chowkidar would have been in jail if Lokayukta was in place: Rahul Gandhi)


YOUTH: India's electorate is particularly young, with half the country's 81 crore voters under 35 years old and eager to secure employment with promise. Mr Modi has promised to create jobs for them. They are also averse to the political tradition of whipping up communal loyalties to secure votes from certain socio-economic groups, castes or religions. (Modi Wins India. BJP and Allies to Cross 300 Seats)


TECHNOLOGY: The BJP and Modi ran a high-adrenalin and tech-savvy campaign that dazzled and engaged voters directly through social media. Modi snapped campaign selfies that went viral and even appeared as a holograph at campaign events. He has tweeted daily for years. By contrast, his main rival from the Congress party, Rahul Gandhi, shunned Twitter himself while his party took to the site only this year. (Coming soon to a screen near you: Narendra Modi in 3D)


INFRASTRUCTURE: India's crumbling roads and ports, plus lack of adequate electricity supply, were high on the list of problems that make business projects hard to get off the ground. They are also of paramount importance to voters, one-third of whom now live in cities. In Gujarat, Mr Modi made infrastructure improvements a priority, building thousands of kilometers of highways and attracting investment to build up the country's largest modern port. He promised to bring the same focus if elected prime minister.
Post a comment