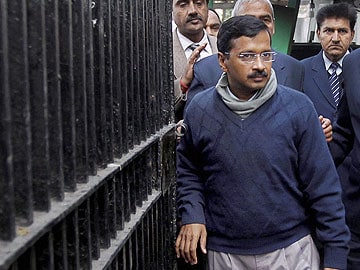 New Delhi:
On his third day as Delhi's Chief Minister, Arvind Kejriwal is unwell and not in office. At 4 pm, however, the leader of the Aam Aadmi Party will chair a meeting at home that's expected to clear the free supply of 700 litres of water everyday for Delhi households.
Here are 10 big developments in this story:
Mr Kejriwal tweeted this morning, "It was so important to attend office today. We had planned the water announcement. God, bahut galat time par bimaar kiya (have fallen ill at the wrong time.)"

His Aam Aadmi Party also asked wellwishers and supporters in a tweet to stop flocking to his home, saying he needed to rest.

Mr Kejriwal is currently in a meeting at his residence with officials from the Delhi Jal Board, the agency that handles water for the capital. The meeting is expected to clear his pre-poll campaign promise of supplying Delhi households with 700 litres of water everyday at no cost.

The Delhi cabinet said it would meet the public at the government's headquarters at noon. But after word got out that Mr Kejriwal was not in office, virtually nobody showed up to meet the ministers. (Read: Kejriwal's father holds havan for his health)

Rakhi Birla, the 25-year-old minister, showed up at work in an auto-rickshaw, reinforcing the Aam Aadmi Party's determination to present itself as a party of the people. (Read: Foreign media on Arvind Kejriwal's war against bribes)

Mr Kejriwal and his ministers have declared war on Delhi's VIP culture. They have said no government official will use the red beacon or lal batti that gives politicians' cars the right of way. They've also refused escort vehicles and security.

Yesterday, Mr Kejriwal, was visibly unwell as he addressed a large group that had gathered outside his flat in Ghaziabad, a Delhi suburb, seeking his intervention on different issues. The 45-year-old chief minister asked for "7-10 days" to set up a process for receiving requests and complaints. (Read)

A 10% increase in the price of water is scheduled to be announced on January 1. Mr Kejriwal is expected to cancel that decision.

He had also vowed to halve the prices of electricity. Mr Kejriwal and his Aam Aadmi Party (AAP) have alleged that power distribution companies colluded with officials in earlier governments to over-charge Delhi for power.

Sources say the new government is likely to order an audit of electricity companies in the next 48 hours. The government is also reportedly planning to reduce power price by 50% by providing a huge subsidy.