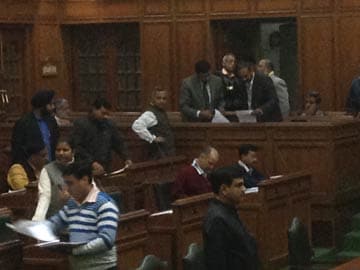 New Delhi:
Arvind Kejriwal today tabled his anti-corruption Jan Lokpal Bill in the Delhi assembly, defying a warning by Lieutenant Governor Najeeb Jung that the bill does not have his consent. The bill was introduced amid loud protests by the Congress and the BJP, who called the move unconstitutional.
Here are the latest updates on this story:
The Congress, which provides external support to the Aam Aadmi Party, and the opposition BJP called for a vote on the Lieutenant Governor's letter to the Speaker, which had made it clear that if the government tables the Jan Lokpal Bill, it will be unconstitutional.

"Why are you running away from a discussion?" said the Chief Minister angrily to lawmakers of the Congress and the BJP who kept shouting, waving copies of the letter.


Earlier, loud protests had forced the Speaker to adjourn the house for 20 minutes and call an all-party meeting.


The BJP hit out at AAP for accusing it of blocking the bill. "We are more committed to the Jan Lokpal than you, Mr Kejriwal. No one should tell lies about BJP opposing any anti-corruption law," said Harsh Vardhan.


The opposition party also insisted that Law Minister Somnath Bharti should be sacked for his controversial raid last month at his constituency targeting African women he alleged were involved in a drugs and sex racket.


The Union Law Ministry had advised that the Lieutenant Governor, as a representative of the Centre, can veto the bill if it is introduced or passed without his clearance, as the Jan Lokpal will be partly funded by the Centre. Mr Kejriwal's bill also overlaps with the national Lokpal law enacted in December, the Centre says.


The AAP has accused the Congress and the BJP of joining forces to block the Jan Lokpal Bill.

Mr Kejriwal has rejected the view that he has to take the Centre's sanction and has said he will resign if his pet proposal, which creates an ombudsman or "Lokpal" to investigate corrupt government officers, is not passed.

On Thursday, BJP legislator RP Singh placed bangles and lipstick on Somnath Bharti's table. "BJP should apologise. It was an insult to the women of this country," said AAP leader Yogendra Yadav.

Tomorrow is the last working day of the special session called just to pass the Jan Lokpal and Swaraj bills showcased by the party in its manifesto for the Delhi election.
Post a comment