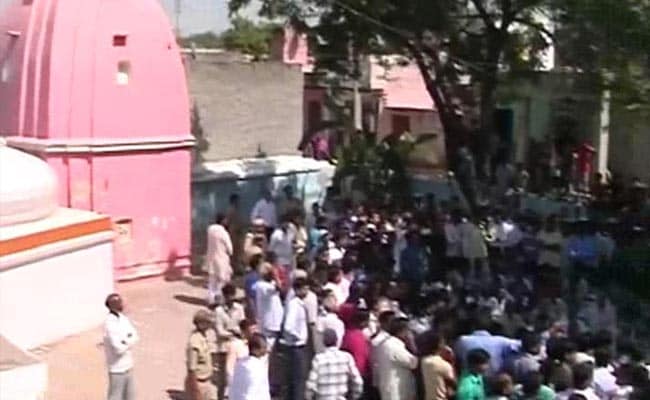 Basera:
Two of the main accused in the killing of a man by a mob in a village in Uttar Pradesh's Dadri have been arrested, police said today, bringing the total number of those arrested to nine. Mohammad Iqlakh, 50, was beaten to death by a mob on Monday night allegedly over rumours that he had eaten beef.
Here are the ten latest developments:
The two men identified as Vishal Rana and Shivam Kumar, in their early twenties, were arrested after a five-day manhunt, police said.

Police sources also indicated that they suspect Vishal was among the main conspirators. He allegedly organised a meeting in which people were provoked to attack Mr Iqlakh's family.

Police sources also said families of the accused, who are also residents of Basera village, have not been cooperating with the investigation.

A total of nine people have been arrested so far amid a huge public outcry over the incident.

Delhi Chief Minister Arvind Kejriwal visited the village today. He blamed political parties of pandering to their vote-banks and taking advantage of the situation.

The Chief Minister had been briefly stopped by the Police at the gates of the village and taken to a guest house. Police denied that they had stopped Mr Kejriwal, saying that they had "advised" him to stay away for his own safety

Congress vice president Rahul Gandhi also visited Basera village a few hours after Mr Kejriwal.

Media crews, including an NDTV team, that have been reporting from the village were attacked by a group of women in the village today.

Earlier, in the morning, a group of villagers led by women drove out media and other visitors, including volunteers of the Aam Aadmi Party who were there to receive Mr Kejriwal, from the village.

The villagers complain that their daily life has been hit by the constant stream of politicians, their entourage and media.