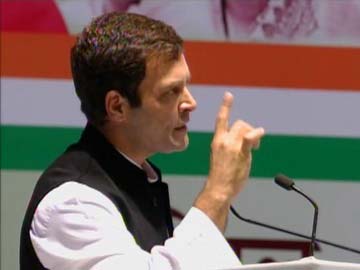 New Delhi: In a speech at a mega-conference of Congress workers today, Rahul Gandhi highlighted his agenda as the party's campaign chief as it sets out to ask voters for a third consecutive term.
Here are 10 points he made in his 45-minute speech:
I am a soldier of the Congress. Will do whatever the party wants me to do. (But) Congress constitution says MPs choose the prime minister after elections.
We are warriors, and we will go into battle with our heads held high, knowing what we stand for. I will do anything you want me to, I am a loyal soldier.
The Opposition has good marketing skills. There is "chamak, naach, gaana (glitter, dancing, singing)". They are selling combs to bald men. Now there are a new group of people who are trying to give them haircuts.
Laws are being made now by the media, by judges, in the streets - we need to involve you, the elected representatives, once again in law-making. This is your domain.

Opposition says India should be Congress-free. But Congress is not an organization. It's a philosophy that stands for the rights and dignity of every individual in this country.
Democracy is not rule by one man. We don't hand over the structure of a party to one man.
We do not respond by subverting democratic institutions, blocking Parliament sessions year after year, day after day. We do not respond by turning people against one and other, by lighting the fire of communal violence.
Pradhan mantri-ji (Prime Minister, Sir), we cannot make do with just nine subsidized cylinders of cooking gas. Women in this country need more. We need 12 per family, sir, please increase the quota.

I want to see 50% women at AICC sessions, in Parliament and among chief ministers of state governments.
This is not about yet another election; it is a turning point in our nation's history. The change that is taking place before us is unstoppable.