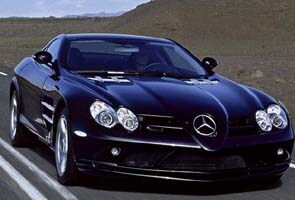 Chandigarh:
Buying a luxury car like Mercedes, Audi or BMW is going to cost you more here with city
administration proposing to levy higher rate of road tax on high-end vehicles costing above Rs 20 lakh.
After the implementation of the proposal, the luxury cars here will be costlier than in Punjab but cheaper than in Haryana.
Haryana charges eight per cent road tax on cars costing over Rs 20 lakh while Punjab levies two per cent road tax on the cost of vehicle.
The Union Territory administration has proposed to replace the current levy of road tax by introducing three new slabs whereby tax will be calculated on the cost of vehicle as is being followed by the neighbouring states of Punjab and Haryana.
According to the proposal, the administration has proposed to levy two per cent tax on the cars having cost up to Rs six lakh.
In the second slab, the three per cent of lump sum tax will be charged on cost of vehicle between Rs 6 lakh and Rs 20 lakh.
Car owners buying vehicles more than Rs 20 lakh will be paying highest rate of tax at four per cent. "The proposed rates of road tax are expected to be implemented by this month-end as the concerned authorities are in the process of upgrading their infrastructure to implement the new rates," an official of Registering and Licensing authority said.
Currently, the road tax is being calculated on the basis of the seating capacity of the vehicle and the levy varies from Rs 1,800 to the maximum of Rs 2,500.
Over 40,000 cars are registered every year in Chandigarh and it has the highest vehicular density in the country with ownership of car per 1,000 population being 82.
Notably, the Haryana government raised the road tax on cars substantially on January 13 with a maximum rate of tax imposed on cars costing above Rs 20 lakh.
In Haryana now, road tax of two per cent is being charged on car costing up to Rs five lakh while four per cent on car valuing between Rs 5 and Rs 10 lakh.
Thereafter, six per cent on cars costing more than Rs 10 lakh up to Rs 20 lakh and eight per cent on cars valuing more than Rs 20 lakh.
Without any slab, Punjab charges flat rate of two per cent of the cost of vehicles as road tax.