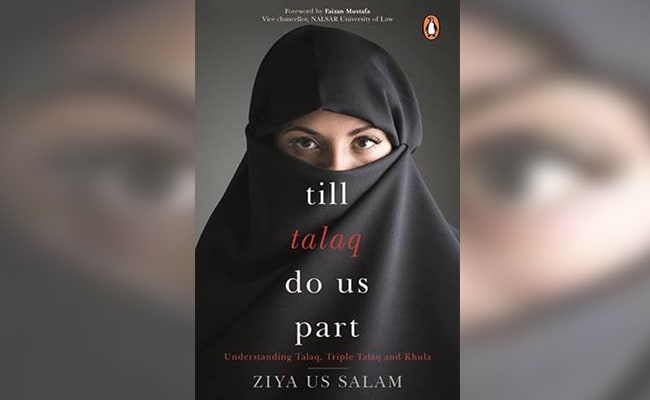 Young Aafreen Rehman was going from her brother's residence in Jaipur to meet her nana (maternal grandfather) in Jodhpur, accompanied by her mother. The bus she was travelling in collided with a truck. Aafreen sustained fractures in her legs. Her mother died on the spot. Despite a disturbed marriage, her husband arrived to be by her side. For the first time in her married life, he seemed to be caring for her.
After a few days, he went back to Indore, where he was based, promising to be back soon. He never returned. After numerous calls and messages, he blocked Aafreen. Instead, he sent a letter written in Hindi by speed post to her nana in Jodhpur and her mamun (maternal uncle) in Jaipur. Both received the post. The same post was sent to her cousin, Naseem Akhtar, too. The cousin refused to receive it. The grandfather and uncle were not as careful. On opening the packet, they discovered it contained the three dreaded words, written by Aafreen's husband, Syed Ashar Ali Warsi, in his own handwriting. Talaq, talaq, talaq.
Aafreen's world, which had never been a bed of roses anyway, came crumbling down with this letter that was received towards the end of January 2016. Her tumultuous marriage, arranged through a matrimonial site in August 2014, was over. Before the receipt of the so-called unilateral talaqnama, Aafreen, an MBA, had put up with sustained torture in the hope of things improving over time, and also because of the realization that her brothers had taken a hefty loan to finance her wedding.
After being married to Warsi, Aafreen moved to Indore. Soon, she got a job as a store manager. However, it was objected to by her mother-in-law, who suggested she pick up a teaching job. Other differences cropped up soon after. Within a few months of marriage, she realized that her family had made a mistake by choosing the lawyer for her husband. He hailed from a reputed family, but he was a wife beater. At the slightest disagreement, he would physically abuse his wife. There were regular demands for more dowry. The husband would beat her up when the demands were not met. About a year after marriage, in August 2015, she was thrown out by her husband, only to be taken back soon after persuasion from Aafreen's brothers and mother-her father had passed away in 2009. Warsi, though, learnt no lesson, and packed her off again in September-this time in an overnight train to Jaipur without a reserved ticket.
After spending a few days with her brother, Aafreen headed to her grandparents' house with her mother. This was to be a fatal journey for her mother, and a calamitous one for Aafreen, who was divorced a few months later through the instant-talaq method.
Aafreen, however, refused to accept the talaqnama without protest. She contacted the local qazi for his opinion on the alleged divorce. The enlightened man held the three talaqs written on a piece of paper invalid. He argued that in the light of the Quran it was not the proper way of ending a marriage as the first stage of reconciliation had not been considered. His ruling, though, had no impact on Aafreen's marriage. However, it did help in bringing about a meeting between the estranged spouses. The couple met once to thrash out issues following the qazi's ruling, but it ended in more threats and humiliation for Aafreen. Her husband refused to take her back. He changed his phone number, blocked her on social media and severed all links with her family. Even a visit to his ancestral place yielded no benefit as Aafreen's family found the house locked.
She, however, refused to give up and lodged a police complaint of domestic violence against Warsi and his mother. They were arrested. But the arrests brought Aafreen no relief. The same day, her brother ended his life. It was too much to take even for Aafreen, who slipped into depression.
However, once again, like the proverbial phoenix, she rose from the ashes of ruined relationships to take her husband on in the court of law.
As she explored her options to hold her husband accountable, she met the volunteers of the BMMA and approached the Supreme Court. The court clubbed her petition with the larger case against instant talaq or triple talaq. As the court set aside instant triple talaq, Aafreen could only say, 'What I have gone through nobody else should have to experience.' Again, though, her joy proved to be temporary. The honourable court had rendered instant talaq void, but had said not a word about her marriage. Nor was there a direction to her husband. The judgment does not talk of maintenance, alimony, etc. Today, if Aafreen wants to marry another man, she might just find herself at a crossroads again. Is her instant talaq valid? Or, if it is considered only a single, revocable divorce, as is the case in many Muslim countries, does she have to marry Warsi again, as the three-month period of iddat is long past? That is, assuming he takes her back after being sent to jail. And if he does not take her back, as is likely, what is Aafreen's marital status? Does she take recourse to khula to marry another man she may choose as her husband? There are more questions than answers in Aafreen's life at the moment. Maybe the answers will come when she approaches the court again for a word on her marital status, maintenance, alimony, etc. She may have won the battle, but the war has to go on.
Excerpted with permission of Penguin Random House from Till Talaq Do Us Part by Ziya Us Salam. Order your copy here