There have been reports in a section of media that the RSS played a key role in the surprise appointment of hardcore Hindutva leader Yogi Adityanath as the Chief Minister of Uttar Pradesh while ignoring Prime Minister Narendra Modi and BJP President Amit Shah's preference for someone with an administrative experience and without a distinct caste identity. However, BJP sources have denied any such intervention, and to make it clear that Yogi Adityanath has been Shah's choice since the beginning and that ultimately, he prevailed upon the Prime Minister to go with his choice. In the meanwhile, the RSS, whose highest body for policy formation, Akhil Bhartiya Pratinidhi Sabha, is meeting in Coimbatore, has officially denied media reports that RSS chief Mohan Bhagwat called up PM Modi and urged him to appoint Yogi Adityanath as Chief Minister instead of Junior Telecom Minister Manoj Sinha, who was considered PM Modi's choice.
BJP insiders recall how Shah was impressed with Yogi Adityanath's organizing skills and mass base when he was appointed General Secretary in-charge of Uttar Pradesh back in 2013 and started intensive tours of the state in order to revive the defunct party organization at the micro level. Shah visited Gorakhpur many times and interacted with Yogi Adityanath. Close associates of Shah recall an incident when the BJP chief, who that time had no security and used to travel in the interiors of Uttar Pradesh, had taken a road blocked by some agitating villagers and was stuck there. Shah made a few calls and many volunteers of Yogi Adityanath's organization, the Hindu Yuva Vahini, arrived on motorcycles within minutes and cleared the way for him.
With his hard-core Hindutva image and mass following, Yogi Adityanath was an ideal choice for Shah's game plan to revive the BJP in Uttar Pradesh. After a massive win in the Lok Sabha, whose credit goes to Shah, he decided to test the waters by making Yogi Adityanath in-charge of the assembly by-elections which were necessitated September 2014 because many BJP MLAs had been elected to Lok Sabha. The Yogi campaigned extensively outside the Gorakhpur belt; he was seen making provocative speeches in communally-sensitive Western Uttar Pradesh which was recovering from the Muzaffarnagar riots of 2013. Of the 11 seats won by the BJP, in the 2012 assembly elections, eight were won by the Samajwadi Party in the by-elections. This was a big setback to Amit Shah's Yogi experiment which aimed at cashing in on Yogi's image in Western UP. However, Shah stated that by-poll results across the country in which BJP suffered major defeats were reflective of the voter's tendency to go with the ruling party, especially when the state government was not close to completing its term.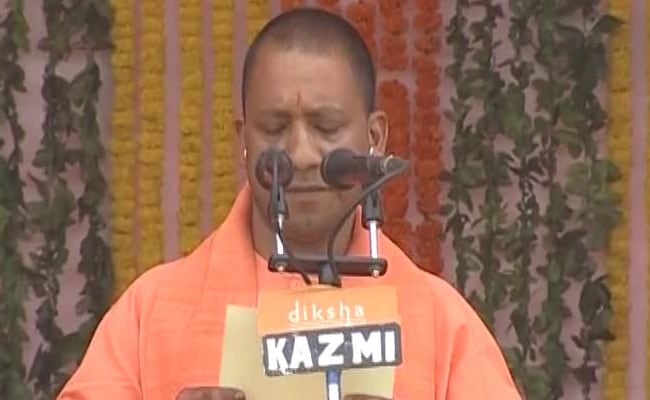 Shah made amends in UP and changed the state president. He replaced Brahmin Laxmi Kant Vajpayee with Keshav Prasad Maurya, Other Backward Caste leader. He started making a rainbow coalition by bringing in leaders of different castes from other parties. He mainly poached from the BSP. His target area was Non-Yadav OBCs and Non-Jatav Scheduled Caste leaders. The BJP decided not to project any Chief Ministerial face and instead decided to use photos of Rajnath Singh (a Thakur), Kalraj Mishra ( a Brahmin), Uma Bharati and Keshav Prasad Maurya (both OBCs), apart from PM Modi and Amit Shah. However, Yogi Aditynath's supporters were upset that his pictures didn't find any place on the official BJP posters; nor was he made chairman of the campaign committee. That's why when rival SP-Congress floated the slogan "
UP ko yeh saath pasand hai
" with pictures of Akhilesh Yadav and Rahul Gandhi, they started their own counter-campaign by adding Yogi's pictures in the BJP's official posters, thus taking the count of pictures on the poster to seven with the slogan "
UP ko yeh Saat (7) pasand hain
".
In the meanwhile, all internal surveys done by the BJP pointed out that Yogi Adityanath was only second in terms of popularity after PM Narendra Modi. He was ahead of his Thakur rival and Home Minister Rajnath Singh, and emerged as a strong choice for the post of Chief Minister among people supporting the party. He was included in the list of the star campaigners of the party and campaigned extensively in the entire state, including Ghaziabad, which borders Delhi. He raised polarizing issues like the alleged exodus of Hindus from Kairana, and the need to shut down Love Jihad and abattoirs.
He didn't throw his weight around or raise a dissenting voice as he had done previous elections. In fact, when some of his supporters filed nomination papers under the banner of Hindu Yuva Vahini to run against BJP candidates, claiming that they had his blessings, he immediately issued statements disowning them and even called them criminal elements who were thrown out of the Hindu Yuva Vahini sometime ago. He took out a massive road show along with Shah in Gorakhpur and ensured that all the rebels were defeated by a huge margin.
In the past, Yogi has not had a comfortable relationship with the BJP. His mentors belonged to the Hindu Mahasabha, which was a rival of the Jan Sangh, the erstwhile avatar of BJP. His predecessor, Mahant Avaidhyanath, was an MP of BJP, and he took on the leadership of the Gorakhpur mutt from him. Just like Keshav Prasad Maurya, he is a product of the Ram Janmbhoomi movement, and this movement brought him closer to the BJP. But he always wanted his own way on deciding BJP candidates in the Gorakhpur area and revolted silently when party didn't listen to him in the last assembly election.
Contrary to perception, Yogi has never had warm relations with the RSS, which has always been doubtful of his independent nature and temperament. BJP leaders say that the only leader of the Sangh Parivar who was close to him was the late Ashok Singhal of the VHP, who regularly coaxed Yogi back whenever he started drifting from the BJP.
BJP leaders say that Telecom Minister Manoj Sinha was the initial choice of the party leadership because the PM wanted the BJP government in UP to deliver on the promises of good governance and development and he favored Sinha because of his good image as an able administrator. However, some key RSS leaders including Krishna Gopal, who looks after co-ordination between the BJP and the RSS, were opposed to him. Sinha, according to them, had a turbulent relationship with Krishna Gopal and some
kshetra pracharaks
of the Kashi area. Some of them vehemently opposed the choice of Sinha and Keshav Prasad Maurya, who also wanted to be considered for Chief Minister, started opposing Sinha's name. He met party Vice President and Uttar Pradesh-in-charge Om Mathur and registered his protest. Om Mathur and Sunil Bansal (RSS point person for the BJP in UP) then met Shah and informed him about the reservations of Maurya and other state leaders about Sinha. At this point, Yogi's name was proposed and accepted by the leadership.
BJP leaders say that by putting forward Yogi's name, Shah has ensured that the BJP will contest the 2019 election with an even bigger focus on Hindu consolidation because he sees a
Mahagathbandhan
or Grand Alliance of opposition parties combining to fight the BJP. In Uttar Pradesh, key to deciding who will govern India, Shah wanted a strong leader to deliver on the promise of improving law and order and he believes that after Kalyan Singh, Yogi alone has this tough image which can be helpful for the party. Like PM Modi, Yogi has to do nothing further to reinforce his Hindutva image to hardcore supporters; if he can deliver on some of the election promises, the BJP government can combat any anti-incumbency that may crop in during the most crucial 2019 Lok Sabha polls.
(Akhilesh Sharma is Political Editor, NDTV India)
Disclaimer: The opinions expressed within this article are the personal opinions of the author. The facts and opinions appearing in the article do not reflect the views of NDTV and NDTV does not assume any responsibility or liability for the same.