You don't usually think of blasting Hindustani classical music but in Bombay, when the waves crash and the rain is torrential, Kishori Amonkar's
Malhar
, played loudly, matches the city's monsoon note for note. A friend in Delhi would argue that Amonkar's
Gaud Malhar
is better suited for the rainy afternoons of the plains - where the sun breaks out between showers.
In office, a proud-to-be atheist colleague told me Amonkar's Meera
Bhajan, "Maro Pranam"
, was the closest he came to understanding the spiritual meaning of the word "surrender".
When I told Kishori
Tai
of the many moods her music evoked, she dismissed my romantic waffling with a sharp "But you just said you don't know classical music or how to recognize
ragas
, what moods are you talking about?" An even more biting question followed: "How will you interview me if you don't know classical music well?"
Interviewing Kishori Amonkar was never easy - she's said to have refused several requests, kept many pending and clammed up during others. Quite inexplicably, I always had it easy with her.
In 1996, I followed her to Raghavendra Swami's
Matha
in Delhi. This, along with Gurudwara Bangla Sahib, introduced to her by her disciple Dr Gurinder Singh, were places she made a pilgrimage to on every visit to Delhi. Inside the sanctum of the
ashram
, I asked her if I could interview her, prepared to be rebuffed. Instead, she surprised me by speaking for an hour on the concept of
sadhana
and how for her that meant reaching the right notes when she sang. "Notes encompass the universe for me. Discovering them, finding them and living with them, is and always will be my life." She also spoke of the time when, already an acclaimed singer, she lost her voice at the age of 25. "No doctor was able to diagnose, let alone treat, the problem. Finally, Sardeshmukh Maharaj treated me with Ayurveda. It took two years, but those days of solitude made me discover my music all over again."
Born in 1932, Kishori Amonkar started learning classical music from an early age from her mother, one of Jaipur-Atrauli
gharana's
great singers, Mogubai Kurdikar, who, by Amonkar's own descriptions, was a tough guru. "
Aai
would sing once or twice, and then I had to copy it. She would tell me that it's not just how you sing the note, but how you reach it. It still takes me time to reach the note, but when I do, I am one with it, and I want to take everyone there as well."
Our conversation that day in Delhi, 20 years ago, ended with her singing two
bhajans
. I was 24, sitting next to a legendary singer who rarely gives interviews, listening to her sing; yet, any sense of journalistic triumph was overwhelmed by the power of Amonkar's voice - a voice that could take you I'm not sure where, as spiritual immersion doesn't come easy to me, but certainly to a point where all other thoughts ebbed away.
It was a voice that has seen endless hours of
riyaaz
, of careful honing and training from gurus like Anwar Hussein Khan of the Agra
gharana
, Gwalior
gharana's
Sharadchandra Arolkar, Goa's Balkrishnabuwa Parwatkar and Anjanibai Malpekar of the Bhendi-Bazaar
Gharana
. The most abiding influences came from her mother, whom Amonkar was accompanying on stage by the time she was 17. Apart from a musical education, Mogubai Kurdikar also gave her daughter her iconoclasm. While Amonkar believed that rigorous training,
tapasya
in a traditional
guru-sishya
relationship was essential in classical learning, she would quickly reject the rigid framework of the
gharana
system. Her
khayalgayaki
instinctively borrowed features from different musical
gharanas
; spontaneously, she would improvise and experiment when she felt the need to do so.
During another interview I was lucky to get just five months ago, in October, Amonkar said, "I do not believe in
gharanas
. You see, the
gharana
gives you a very small sphere of this vast world of notes. Basically, you should see the world of notes, you would be able to express directly through notes.
Hamne toh aise bhi socha hai ki agar yeh zindagi mei koi bhasha nahin hoti aur sifr sur ki bhasha hoti to kya kartey log."
This time, we were doing the interview in her hotel room in Delhi. She had sung the evening before at Delhi's Nehru Park as part of SPICMACAY's "Concerts in the Park" series. Before the concert, she had to be pacified after she shouted when her sound check wasn't going well. But by the time she got into
Raga Bageshri
, one of her favourites, she had her audience, as always, enthralled. For those familiar with Amonkar, the concert had all the elements of her music and her persona; just that at 84, her voice would at some points break into a cough.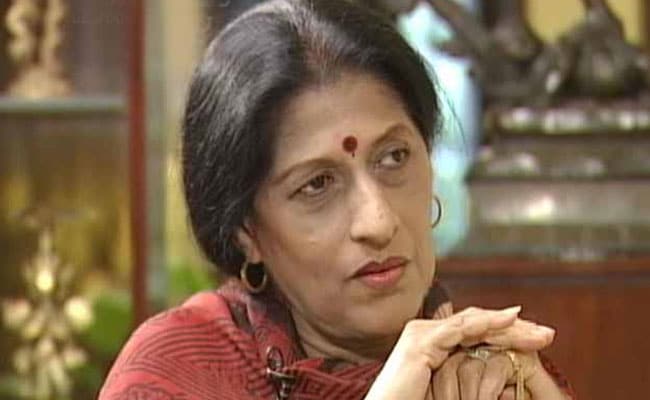 "When I sat down to do the interview, I was feeling negative and thought let's wind this up quickly. I'm enjoying myself now," Amonkar said rather affectionately, almost uncharacteristically, and then spoke to us for almost an hour and a half in what is sadly now her last interview. Her hair dyed black to perfection, a sari elegantly and crisply worn, she was alert, alive to our questions, and in a mood to chat.
Just a month earlier, in September 2016, she had received the MS Subbulakshmi award for classical music, one of innumerable honours that came her way including the Padma Bhushan in 1987 and the Padma Vibhushan in 2002. What about the Bharat Ratna, did she want that? "Well, I haven't thought about it my dear because I'm satisfied with my
Ganasaraswati
title," Amonkar replied, proud of the title bestowed upon her by the Shankarcharya. She added "Besides, what does it mean to get the Bharat Ratna - not much. What was the point in giving Bhimsen-
ji
a Bharat Ratna when he wasn't even in a state to realize what was going on or what he was receiving? Bhimsen Joshi sang the same thing when he was 75, didn't they realize then what his worth was? They had to wait till he was 80 or 90 to honour him - doesn't make sense.'
Amonkar was as scathing when she spoke of how badly classical music was being taught in schools and colleges. 'An MPhil student of music came to learn for me and asked me if I could teach her how to do
riyaaz
. That's the level we're at, so what else do you want me to say? Popularity, money, that's what it has become. Everyone wants to go foreign countries and establish schools there. You should stay in India, nurture the people, your disciples. I don't think that's happening." I asked her if she was referring to any specific artists to which she said "You're the journalist, don't you know what I'm talking of?"
By now the interview had become a free-flowing conversation, led by Amonkar. She told us how important it was for her to listen to her own music - "I listen to my recordings, primarily to spot my mistakes, for I do make some and it's important to correct yourself. Apart from this, I listen to Western music and even film songs."
I had expected Kishori Amonkar to be dismissive about film music. Her own encounters with playback singing for films hadn't worked for her. In 1964, she sang the title song of V Shantaram's
"Geet Gaya Pathoron Ne"
but it a was bitter experience, one she said she wanted to forget. While this is widely cited as her first foray into the film world, Yogesh Pawar, a friend and fellow journalist, pointed out that Amonkar sang a solo,
"Tum bhi wahi ho"
for the 1952 film
Siskiyaan
and a duet with KS Ragi for the same film. But Amonkar would always say that the film world was not for her. She told us of her mother's clear warning that if she sang in films, "she would never let me touch her
tanpuras
again."
25 years later, in 1990, Amonkar did return once to compose and sing for Govind Nihlani's
"Drishti"
, a soundtrack with exquisite
alaaps
and the memorable
"Megha jhar jhar barasat re"
, but never did films after this.
I asked her if she has any favourite songs. She surprised us with a list of choices that included
"Khwaja mere Khwaja"
from the film
"Jodha Akbar"
and began to hum
"Mein Tenu Samjhawan Ki"
, a recent hit from the film
"Humpty Sharma Ki Dulhaniya."
She said, "The boy who sings this song has done a great job with a song that's not so easy to sing. I like it."
As she sat on the sofa for the interview, framed and lit hastily for the camera - my colleague Adarsh and I were eager to start the interview quickly, lest she change her mind - I asked about her reputation of being a temperamental, reclusive, moody, difficult person. "You tell me, you've been sitting with me for an hour - am I as awful as they say I am? And would people love me the way they do, 1000s of people, old and young, if I was so mean? When I am irritated or express my displeasure, it's usually because something is interrupting my music. And while I'm not here to win a popularity contest, it hurts me when people accuse me of being cold and bad-tempered."
Through the long, lively interview, I was filled with a sense of inadequacy. Television journalism has never nurtured reporting on the arts. Some of us who do it do so out of a love for music, for dance, for theatre, bringing to it our preferences, even our whims, sadly not any real training or specific knowledge. A music critic, a more informed person could have, perhaps, elicited more on the technical constructs of her music, on why
Raga Bhoop
was her favourite, how she'd perfected it, or drawn other greater insights into her music.
I console myself with the thought that all those who were present in the room during the interview would say later that Kishori Amonkar had loved doing our interview.
I will miss her most when the rains return.
(Radhika Bordia is Features Editor at NDTV)
Disclaimer: The opinions expressed within this article are the personal opinions of the author. The facts and opinions appearing in the article do not reflect the views of NDTV and NDTV does not assume any responsibility or liability for the same.