I woke up on Sunday morning in Hamburg with sore muscles, relishing the thought that I didn't have to start rushing out of my hotel at dawn to follow Prime Minister Narendra Modi's hectic schedule. He'd left the night before on Air India One and I was hoping that before I headed to my Cattle Class ride, I'd get out for a walk to see the stunning lake close by. I had no illusion about making it to a ferry ride on the harbour, or a boat tour of the Elbe, but I did hope that I could go back seeing at least one other thing than just Hotel Atlantic, where PM Modi and German Chancellor Angela Merkel stayed, or the media room of the Messe, where the Indian press pack sat and waited futilely for news, any news for more than 50 hours.
Apparently, right where we were at the G20 centre, PM Modi shook hands, got waved at and then held forth on some enthralling subject while POTUS Donald Trump just listened. Apparently, it was very interesting because not just POTUS, but other leaders gathered to listen to him too. If you're wondering why I say "apparently", it's because five other reporters and me who came all the way to the port city to report on India at the G20, learnt of it from Twitter. I saw that Arvind Panagariya, the Sherpa - a term used for an adviser to the heads of state and government - had tweeted about it the day before!
Now here's what's strange about it. Arvind Panagariya and the Ministry of External Affairs did have a briefing at the end of the summit, but they did not mention either the POTUS Face-Time or any details of the Modi-Xi meeting. In fact, I can tell you that the information on the China meeting doesn't go beyond 140 characters. "A range of issues," said Foreign Ministry spokesperson Gopal Baglay when I pressed him for more, "means a range of issues."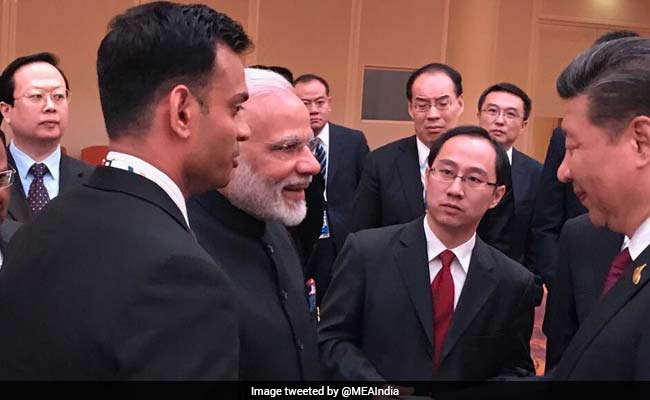 Maybe it is my fault that I wasn't following the very eminent economist and NITI Aayog Vice-Chair on social media. It's a wrong that I have corrected immediately, and I have set alarms for every tweet now. But doesn't the government lose out if those disseminating information like me lose track of the dozen-odd government handles, or get cross-eyed from tracking all of them, and miss something? I know the government's rallying cry is Digital India but how are we to interpret things if all that we have is 140 characters on the Xi meeting and a day later, China pushes up the hostility with an advisory to its citizens living in India? We then rely on common sense, put two and two together and figure out - despite the tweeted pictures of our PM smiling with Xi, the meeting didn't resolve the border standoff. It's simplistic, but that's the ball park.
That's the problem with 140-character communication with the media: you have to simplify things. If you refuse to do background briefings to explain the nuances of an obviously complex situation, how can you then attack the media for "sensationalizing" the China situation? One of the reporters seemed very upset. She'd asked an officer specifically whether Xi and Modi talked and he clearly said no. Just a few minutes later, those who had their twitter alarms on, learnt that our PM had warmly greeted and discussed a range of issues with Xi. "Don't lie to us, at least," the reporter complained. The poor officer maybe didn't know himself but he certainly won't speak to any reporter now before checking with his boss or the PM's tweeted position first.
I recently heard a long, radio analysis of the media's problems in reporting on Trump. There was some good advice there - the traditional method political reporters have followed is to get information from the inside and then spread it outside. Now, we have to follow the Outside-In mode. Get it from the big, wide, world outside and then use it to try and understand what's happening inside the establishment.
But for those well-wishers we have inside the establishment who keep telling us to understand their point of view, to see things from their perspective. I just have one thing to say - we want to understand, we want to listen, but talk to us beyond 140 characters. Hey, even POTUS's top aide Rex Tillerson spoke to reporters at length on the Trump-Putin meeting.
(Sunetra Choudhury is Editor, National Affairs, NDTV 24x7. She's author of Behind Bars: Prison Tales of India's Most Famous.)
Disclaimer: The opinions expressed within this article are the personal opinions of the author. The facts and opinions appearing in the article do not reflect the views of NDTV and NDTV does not assume any responsibility or liability for the same.
Get the latest election news, live updates and election schedule for Lok Sabha Elections 2019 on ndtv.com/elections. Like us on Facebook or follow us on Twitter and Instagram for updates from each of the 543 parliamentary seats for the 2019 Indian general elections.