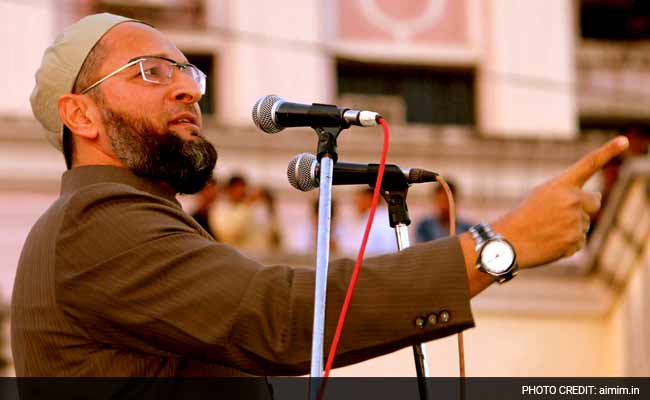 Hyderabad:
The Majlis-e-Ittehadul Muslimeen (MIM) is making a beginning in Bihar by contesting six seats in the assembly elections but it won't be a symbolic fight, says party chief Asaduddin Owaisi.
"It's a serious fight and we have entered the electoral fray to win," the third-time Hyderabad MP told IANS in an interview at Darussalam, the MIM headquarters in Hyderabad.
"This is a beginning. Certainly in future we will expand throughout Bihar. We have taken a start in Seemanchal (region), the most backward region, and we have limited ourselves to six seats," said the London-educated barrister.
Seemanchal, comprising four districts, accounts for 24 of the 243 assembly seats. The MIM decided to field candidates in only six places.
Mr Owaisi, 46, denied that his party limited itself to six seats in view of the criticism that its entry will split secular votes.
"Not at all. Criticism or praise doesn't influence our decisions. It's a decision of the party," he said.
Mr Owaisi said the MIM can't be accused of dividing secular votes as secular alliances have 237 seats to contest.
"Our first priority is to defeat the BJP, and we have appealed to the people to vote for secular candidates of secular combinations in other places."
Mr Owaisi wonders why the charge of dividing secular votes is hurled at him, not at others.
"This question should be answered by the Left parties, which are contesting 200 seats, and by the Samajwadi Party and BSP.
"This whole debate (of division of secular votes) is totally wrong because a huge country like India can't afford to have a two-party system or two-alliance system."
Mr Owaisi says the latest NSSO data exposes all political parties, be it the Bharatiya Janata Party, the Rashtriya Janata Dal, the Janata Dal-United or the Congress on how Seemanchal was deliberately kept underdeveloped.
"Material well-being, educational index, health index and economic index are pathetic there. If we are to compare that with other districts of Bihar, it clearly shows in a systematic way Seemanchal was kept backward."
The party will demand a regional development board for Seemanchal's overall development.
How can the MIM achieve this with a few legislators?
Mr Owaisi said: "I am the MIM's single MP in the Lok Sabha, but I am trying my best. That is why you have come here to interview me. So the number is not important. What is really required is your intention and your approach towards a particular issue."
Mr Owaisi, who fought the Maharashtra assembly election on the slogan of Muslim-Dalit unity, believes that every state and region imposes different issues and challenges.
But the MIM's main plank will definitely be empowerment of Muslims, Dalits and other weaker sections.
Mr Owaisi also explained the reason for the MIM's decision to contest byelections to two assembly seats in Uttar Pradesh.
"We want to expose the Samajwadi Party. They have not allowed me to hold public meetings after giving permission. Now when these by-elections will be held under the auspices of the Election Commission, I challenge them to stop me," he said.
Expanding outside its traditional stronghold Hyderabad, the MIM made an impressive debut in Maharashtra last year.
Besides one Lok Sabha seat (Hyderabad), seven assembly seats in Telangana and two in Maharashtra, the party has significant presence in urban local bodies in Telangana, Andhra Pradesh, Maharashtra and Karnataka.