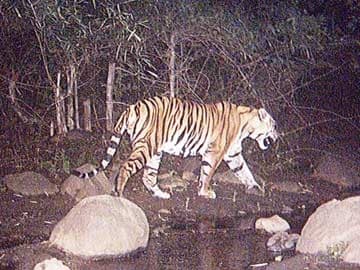 Bhopal:
A mobile phone video which shows a tiger hunting cattle has gone viral on the Internet. It is claimed the video was shot in Kerwa forest just 5 kms from Bhopal.
The forest department is still verifying the authenticity of the video, but the issue of man-animal conflict is once again in focus.
30-year-old Vaijanti Bai lives in Daulatpur village with her family and cattle. The recent reports of a tiger roaming in her neighbourhood is giving her sleepless nights. "I am scared that the tiger may show up near my house...in the night we take turns to guard our cattle," said Vaijanti.
There are a dozen villages like Daulatpur in Ratapani sanctuary, where not only cattle but sometimes even tigers are victims of human beings. Activists feel the majestic creatures need a safer habitat.
"The government of India has already given in principle approval to upgrade Ratapani sanctuary to a tiger reserve and the proposal is pending with the state government for two years now," activist Ajay Dubey told NDTV.
The state government assures that they are doing their best to ensure safety of the tigers which wander out of the tiger reserve. The state forest minister Dr Gauri Shankar Sejwar told NDTV, they are working on a project to ensure safety of tigers outside the reserve and that they plan to set up watch towers and infrared cameras.
Some funds from the Centre are pending, and work will begin soon after.
However, the new forest minister of Madhya Pradesh, Dr Gauri Shankar, said he is not even aware of the Centre's approval for a tiger reserve here.
Get Breaking news, live coverage, and Latest News from India and around the world on NDTV.com. Catch all the Live TV action on NDTV 24x7 and NDTV India. Like us on Facebook or follow us on Twitter and Instagram for latest news and live news updates.