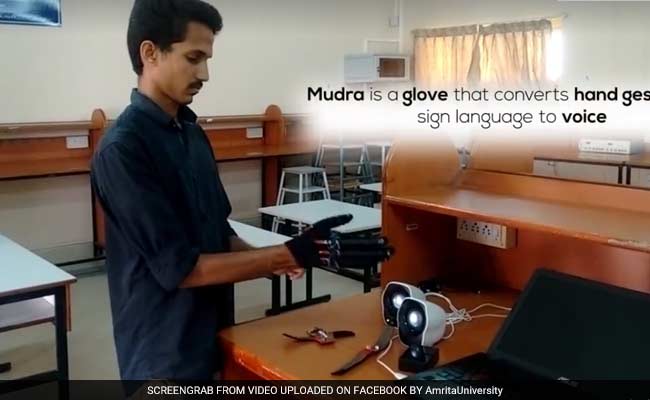 Bengaluru:
Students of an engineering school here have developed a 'smart glove' called MUDRA which converts hand gestures based on Indian sign language into spoken English, potentially paving the way for speech-impaired individuals to communicate more effectively with others.
The feat was achieved by a team of four B.Tech students - Abhijith Bhaskaran, Anoop G Nair, Deepak Ram and Krishnan Ananthanarayanan at Amrita School of Engineering's Amrita Robotics Research Lab (ARRL) at the Bengaluru campus.
HR Nandi Vardhan, who mentored the students, said the glove is designed to convert hand gestures in Indian sign language to voice.
"Though this is our initial focus, the glove is multi-purpose and versatile. It can be reprogrammed for a range of applications in which motion-sensor technology plays an important role, such as gaming stations, virtual reality, remote control of devices, and the robotics and medical industry. The glove has a vast potential due to its simplicity and powerful algorithm."
The lightweight MUDRA glove can be worn comfortably like a riding glove and recognizes hand gestures in all possible directions and angles using flex resistors, accelerometer and gyroscope, he said in an Amrita University release.
The corresponding output is transmitted as speech through inbuilt speakers, the release said, adding, the glove is cost effective without compromising on quality and efficiency.
Abhijith Bhaskaran said the glove is much cheaper compared to similar gesture-sensing products available today.
The prototype took 16 weeks to build and costs Rs 7,500.
The glove can currently recognize numbers from 1 to 10, and Indian sign language gestures corresponding to words such as morning, night, goodbye and thank you. It can detect four different states of each finger, and as many as 70 gestures can be configured, he said.
The glove is now in advanced stage of the production cycle. "We have begun validating its social feasibility. The preliminary results are very encouraging."
The team intends to conduct field trials once it has designed user experiments with all possible conditions and permutations, he said.