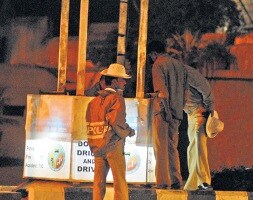 Bangalore:
Liquor consumers had a reason to smile on the New Year's Eve as the traffic police did not book even a single case related to drunk driving.
A senior police officer said, "We had taken this decision since it was a special occasion. Whenever we found violations, we instructed our staff to take only preventive measures."
The measures included stern warning to the violators and making arrangements for them to be dropped home safely if the person was driving alone. However, if there is a teetotaller in the group we ask them to take the wheel.
In fact, Police Commissioner Shankar Mahadev Bidari had requested revellers to accompany a teetotaller to drive them back safely.
On other days, it is a serious offence and the traffic police books cases against those who are drunk and driving. The police also seizes their licences if they have committed the same offence more than three times. R Devaraj, a reveller, was surprised when he was not booked though he was drunk.
"I was going home with my friend and we were both drunk. A cop stopped my vehicle and asked my name to find out whether I was drunk or not.
He then advised me to drive slow and safe. I was very happy, and also surprised for not being booked." ACP (Traffic and Security) Praveen Sood was not available for comments.