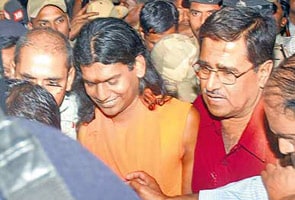 Bangalore:
The extensive media coverage that the sex romp case had attracted has urged Swami Nithyananda to file an application before Chief Judicial Magistrate Ramanagara seeking release of unedited audio and video recordings acquired by the CID while he was in custody between April 21 and 30, last year.
In his application filed before the court on March 19, he claimed that a vast section of the media has been asked by the CID to write 'utter garbage' and pass it off as his confession. Almost all reports made by the media attribute their source to the CID. Some have reported that Nithyananda confessed to having sex with 15 women, while others claimed to have material, evidencing his confession to having had sex with 35 women.
Some have reported that he confessed to having uncontrollable sexual urges on Amavasya or Poornima, while a few have reported that he blames his devotees for falling over themselves and forcing him to have sex with them. In the application, Nithyananda stated under oath that he never did offer or make any statement even remotely incriminating himself. He said that while he was in CID custody, he was subjected to extensive, incessant and unremitted interrogation.
He proceeded to answer each question posed by the CID, truthfully and to the best of his knowledge, information and belief. Further, he has stated that he never admitted to ever having sex with any of his devotees. The self-styled god man further reaffirms and reiterates that he is wholly innocent of the crimes, for which he has been booked. After detailed and sustained arguments, the Magistrate has issued notice to the CID to place their objection, by March 31.
Another controversy is brewing over the filming of 'Swami Satyananda', which Nithyananda alleges is based on his life. The self-styled godman sent a legal notice to Kannada film actor-producer Madan Patel, threatening to sue him if he did not stop filming for the movie immediately.
Patel on the other hand seems to be benefiting from the free publicity. He admitted to receiving the notice and said he is yet to reply. He added that he would not stop the shooting at any cost. He said that he was searching a Nithyananda look-alike for the lead role. A cameraman from a local news channel who resembles the swami had been approached in this regard. Replying to a question, Patel said that he would offer Nithyananda the lead role if the latter agreed.