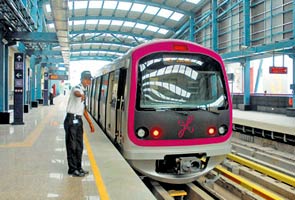 Bangalore:
The Metro has been literally engineered to be 'inhospitable' and 'unfriendly' to its commuters, alleged senior citizens' forums, underlining that the upcoming mass transit system has neither built-in any seating arrangements nor any medical facility on the station premises.
According to the complaint filed by the forums, Metro stations have absolutely no seating space and there are not medical facilities available either. At first glance, the Reach I Metro stations connecting MG Road to Byppanahalli, sure lives up to international standards. But a closer look would reveal the darker side of the sparkling stations.
According to sources, the major flaw at Metro stations is that very few commuters friendly facilities are available there. The soon to be inaugurated Reach I of the Metro has six stations on its 6.7-km stretch between MG Road and Byappanahalli. And each station can accommodate more than 40,000 passengers.
Unapologetic of its 'inhospitable behavior', the BMRCL has now announced that people unnecessarily waiting at the stations will be fined.
"We don't want passengers to wait at the stations. We want to maintain a floating crowd of passengers and this is why we don't have seating arrangements. Commuters will be fined for overstaying at the stations," said A Shankar, signaling and ticketing in-charge, BMRCL. "The passengers will have to pay anywhere between
Rs 10 and Rs 50 as fine," added Shankar.
As per the BMRCL rule, after purchasing a token, a passenger would be allowed to stay inside the station premises for only 20 minutes within the non-paid area and for two hours in the paid area, including the total journey time. A fine would be imposed if this time limit is exceeded.
M N Sreehari, advisor to the Government for Traffic, Transport and Infrastructure, said, "Bangalore metro is turning into a passenger unfriendly service. The stations lack passenger facilities. Besides other issues such as non-availability of parking lots is likely to make the service inefficient."
No Medical Help
Following cases of serious medical emergencies at Delhi Metro stations, the body recently introduced medical counters within the station premises.
But the BMRCL seems has not picked up this positive move.
When MiD DAY asked why no medical facility was planned at the stations despite getting requests from senior citizen groups, the BMRCL donned an arrogant avatar.
"No. We have no plans of introducing separate medical counters. However, all customer care centers at
stations will have first-aid boxes with them. We will put up a full list of hospital numbers for the convenience of customers," said Ravi Prakash, spokesperson of the metro body.
Further, there is more bad news in store for travellers. Passengers would have to cough up at least Rs 5 to use toilet within its premises. Initially the BMRCL had no plans of constructing restroom also. Succumbing to mounting public pressure to incorporate this facility, they constructed it at select stations. And now the BMRCL has announced that the restrooms would be on a pay and use basis and would be installed only at MG Road and Ulsoor stations.