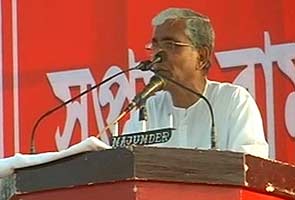 Agartala:
After dislodging the Left in West Bengal, the call for
Poribartan
or change authored by Trinamool Congress' Mamata Banerjee also seems to be nipping at the heels of the Communist Party of India (Marxist) or CPM in Tripura where Assembly elections are due on Thursday.
But it's easier said than done. In the last Assembly elections, the Left got a brute majority of 49 seats out of 60. This election is crucial for the CPM which is defending the only Red bastion in the country today.
Even Manik Sarkar, Tripura's Chief Minister, can't ignore
Poribartan
. He used the word at least a dozen times during his campaign speech at Udaipur on Sunday.
The word came into currency during the last West Bengal Assembly polls when Mamata Banerjee called for
Poribartan
or change. It was a word that spelt disaster for the Left. Now that word is being freely bandied about in the streets of capital Agartala.
"Some are saying Poribartan or change. Some are saying
pratyavartan
or resurgence. I think the
Poribartan
wave is stronger," says Sanjay Pal, a resident of Agartala.
Not everyone agrees. Pradeep Poddar, a small time trader, says, "They are talking about
Poribartan
or change but there will be no
Poribartan
. The Left government has done a lot. There will be
pratyavartan
or resurgence."
Mr Sarkar, Chief Minister since 1998, however says that anti-incumbency is the real problem, not
Poribartan
. "The people are not talking about it. This slogan has been hijacked or stolen or taken as a loan by our friends the Congress," he says.
On the other hand, the Opposition Congress, which has to triple its tally of 10 seats to come to power, hopes
Poribartan
will work.
"It will be a replica of West Bengal. The way the Left as swept away by the tsunami, the people's tsunami is going to sweep away the Left in this state," says Sudip Roy Barman, president, Pradesh Congress Committee.
He says the Chief Minister is so worried that he campaigned in his constituency 46 times this poll. Last time he went just four times.
Mr Sarkar laughs that away and also plays down the fact that he is the guardian of the Left's last bastion. "Last bastion, last bastion. Who says this is our last bastion," he exclaims. "West Bengal is still the advance guard of the left and democratic movement in India and Kerala too," he adds.
It's an onerous responsibility. The
Poribortan
buzz has may be just that - a buzz - but the Left is pulling out stops to ensure Tripura remains in its pocket.