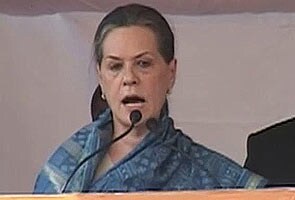 Mandvi (Gujarat):
Congress chief Sonia Gandhi today attacked Gujarat Chief Minister Narendra Modi's claims on development in the state and accused his government of ignoring the welfare of poor and farmers.
Mrs Gandhi addressed a rally in Mandvi in south Gujarat and asked where all the central funds for the state had vanished.
(Read: Highlights of her speech
)
"The UPA government has been allocating thousands of crores to various states, including Gujarat, without any bias. But nobody knows how this money is spent (in Gujarat). They are not bothered about the poor. They are only concerned about themselves," she said.
Mr Modi, however, strongly criticised Mrs Gandhi by saying she was spreading lies. "It's shameful how Mrs Sonia Gandhi was spreading lies today on issues about which Congress has lost all rights to speak," he wrote on micro blogging site Twitter.
Mr Gandhi covered areas that will vote in the first phase of the assembly elections on December 13. This is the same region where she had made her infamous "maut ka saudagar" statement in the run-up to the 2007 assembly polls, giving Mr Modi a huge emotive edge. Today, she avoided handing him any political advantage.
Given its strength in the tribal areas, the congress could draw a huge gathering for the rally. The UPA Chairperson tried to draw an emotional connect, saying: "Our critics are trying to weaken our relationship between you and our party, but have failed. I salute your commitment and honesty and refuse to fall prey to such misleading campaign."
She said that because of the policies of the BJP government, the hardships of the people have increased. "If the government had paid attention, you would not have faced so many problems," Mrs Gandhi said.
The Congress chief said the UPA government had waived loans of debt-ridden farmers but their condition in Gujarat had not changed because of the policies of the state government.
The rally came a day after Congress leader and former deputy chief minister Narhari Amin quit the party and joined the BJP.
Ahead of her rally, Mr Modi dared the Congress president to announce her party's chief ministerial candidate before visiting the state. "It becomes necessary for Sonia Gandhi to do so after a Gujarat Congress leader declared today that he was the captain of the team," Mr Modi told a public meeting in Makarapura late on Thursday night.
Gujarat votes in two phases on December 13 and 17. The results will be declared on December 20.
(With PTI inputs)