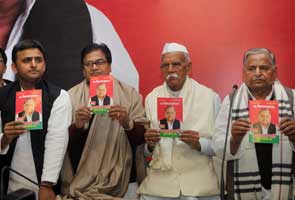 Lucknow:
If there was any doubt that the baton has been handed in the Samajwadi Party to the next generation, here is the proof. The Akhilesh Yadav stamp is all over the party's manifesto for the Uttar Pradesh assembly elections. For one, it promises laptops and tablets for students.
Three years ago, the party's manifesto for the 2009 Lok Sabha elections had said that the SP was against the use of English and the use of computers. Because, party chief Mulayam Singh Yadav had said, "The use of computers in offices is creating unemployment problems."
The manifesto released today says the party, if voted to power, will give students that pass Class 12 a laptop and those that pass Class 10 a "tablet PC." It also emphatically states that the party is "not against computers." With an accent on education, it promises free education for all till Class 8 and for all girls till graduation.
And the aggressive wooing of Muslims by Rahul Gandhi has hit home. The Samajwadi Party has looked upon the 18% Muslim vote in the state as its staunch vote base and has electoral reversals have also come from flagging support in those quarters. So Mulayam Singh and Akhilesh Yadav have picked the gauntlet thrown by the Congress General Secretary who has taunted the SP for not having given reservation to Muslims during its years of rule in Uttar Pradesh. The SP too has now promised reservation to backward Muslims. The manifesto also promises to set up colleges in Muslim-dominated areas and a fee waiver for children of families below the poverty line.
For the rest, there is the vintage SP promise to go after Mulayam Singh Yadav's bete noir and UP Chief Minister Mayawati. The manifesto says if the party comes to power, a commission will inquire into corruption charges against the Mayawati government "in a time-bound manner." Mr Yadav promises teeth for the UP Lokayukta by giving it a prosecution wing.
And, the SP says, it will dismantle the Mayawati ban on student politics in UP.
So what about the use of English? In the age of Akhilesh Yadav, will an SP government in UP see the use of English banned? Uncle Ram Gopal Yadav says, "We are talking about giving laptops and tablets, how can we say ban English?"