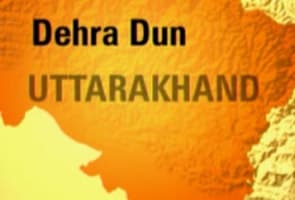 Srinagar (Pauri District):
In Uttarakhand, which is traditionally used to a direct fight between BJP and Congress, the high number of rebels and independents have upset the calculation of the two big players.
With nearly 800 candidates contesting the 70 seats, the presence of an extra candidate, even if it is a rebel does not bother many, but in some key contests it is the rebel who could tilt the balance.
At the Badrinath Assembly seat, when the party decided to allot its ticket to Prem Vallabh Bhatt, it was its sitting MLA Kedar Sigh Phonia who did not take it lying down and went ahead to file his nomination on a ticket of regional party Uttarakhand Raksha Morcha.
A similar step was taken by Anil Nautiyal, the BJP's sitting MLA from Karnprayag whom many even considered close to former Chief Minister Dr Ramesh Pokhriyal.
Nautiyal who had won the seat for the last two consecutive terms is now expected to compound the worries of party's official nominees Harish Poojary.
In Thrali constituency in Chamoli district, sitting MLA G L Shah has also joined the ranks of BJP after he was denied the ticket in favour of Magan Lal Saha.
The Congress candidate Jeetram Lal can expect some benefit from Saha's presence but another independent Mahesh Trikoti would dent his votes as well.
Ram Kumar, the BJP's sitting MLA from Sahaspur has filed his nomination from Urola constituency completing the quartet of sitting BJP MLAs who have rebelled.
Apart from them, former MLA Kailash Sharma has also filed the nomination from Almora against the party's official candidate and sitting MLA Raghunath Singh.
"The rebels may do some damage but out party had conducted a survey before the elections that showed them doing badly which has resulted in tickets being denied to them," a BJP worker said. .