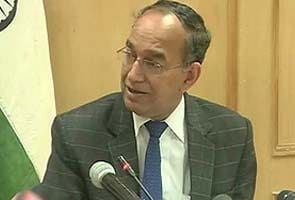 New Delhi:
Election Commissioner VS Sampath is today announced the dates for Assembly elections in Karnataka.
Dates for the Assembly polls:
Voting- May 5
Counting - May 8
Issue of Notification- April 10.
Last date of nominations- April 17.
Scrutiny of nominations - April 18.
Last date of withdrawal -April 20

Highlights from the press conference:
Election Commission (EC) will continuously monitor ground situation and take adequate measures to ensure free and fair polls.
From the last set of state elections, the format of filing of affidavits for criminal record, education background, etc has been combined in revised form 26
EC has directed media certification committees to dispose off 'paid news' cases in a time-bound manner.
No election related officials or police officers will be in his or home district.

Those who have completed three years in a district will be transferred out.
All significant election related activity will be video-graphed.

Effort will be made to distribute voter slips at the doorstep of every voter 3-4 days in advance.

Complaint redressal number - 1950.