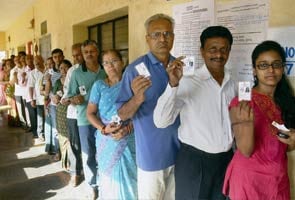 Bangalore:
Karnataka has voted. In the leafy constituencies of capital city Bangalore, the sun-baked regions of north Karnataka, and the relatively temperate southern parts of the state, voters turned out in high numbers to elect the state's next government. At the end of polling, 71 per cent of the 4.36 crore-strong electorate had cast its vote.
Chief Electoral Officer Anil Kumar Jha said the total turnout "is 71.29 per cent, which is much better than last time in 2008 (64.78) and the 2009 Lok Sabha election (58.88).
Voting was held for 223 seats to the Karnataka Assembly on Sunday -- one constituency, Periyapatna, will vote later following the death of the BJP candidate before voting day.
There was excitement among first time voters. And disappointment for those who came to vote but couldn't. Many voters NDTV spoke to could not find their names on the voters' list despite voting in the same place for years.
Through the day, politicians turned out in full strength to exercise their franchise -- from Chief Minister Jagadish Shettar of the BJP and party colleagues Venkaiah Naidu and Ananth Kumar to possible kingmakers BS Yeddyurappa of the Karnataka Janata Party (KJP) and HD Kumarswamy of the JD(S).
The mood in the Congress camp was upbeat. Potential Chief Ministerial candidate, Siddaramaiah, who was in his constituency of Varuna near Mysore to vote, said the party was confident of forming the government on its own. "We are not in talks with JD(S) or KJP. We will form the government on our own," he told NDTV.
The ruling BJP is determined to sound optimistic as well, and party General Secretary Ananth Kumar, after voting in Basavanagudi in south Bangalore, said the BJP would retain power in the state.
Now that the votes have been cast, for leaders and citizens, it is time to wait till Wednesday, counting day. It will then be clear whether the BJP has been allowed to continue, the Congress or the JD(S) have been given another turn, or if there will once again be a mix and match government in Karnataka.