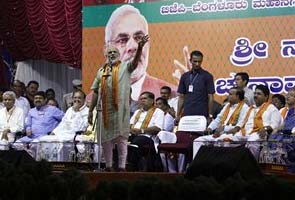 Bangalore:
The Congress, which is all set to form the next government in Karnataka, says the results show there is "no
Narendra Modi
magic."
(Read)
The Gujarat Chief Minister, who is the BJP's star campaigner had charmed crowds with his speeches in hand-picked areas of Karnataka, but did not campaign extensively. Mr Modi campaigned in select areas in coastal Karnataka and in Bangalore - both have seen substantial gains by the Congress. (
Read: Highlights of the Karnataka election results
)
As very early trends showed that the ruling BJP would be the big loser today, senior Congress leader K Siddaramaiah said, "What magic he (Narendra Modi) has? No magic (sic)."
A frontrunner to be chief minister if the Congress forms government, Mr Siddaramaiah said there was a definite Rahul Gandhi factor that had worked in Karnataka, but "Narendra Modi has nothing to do with Karnataka. He is a branded RSS man. Karnataka will not accept an RSS man."
Mr Modi was reportedly not keen to be associated with the Karnataka elections, which many in the party had assessed it would lose, and his campaign was short. The BJP's Chandan Mitra today explained, "We don't want to overexpose Narendra Modi in an electoral battle so soon."
The general elections are months away now and many see Mr Modi pitted against Mr Gandhi in a face-off, though neither the BJP nor the Congress has announced that they will lead their respective parties in 2014.
Both the national parties pulled out their A-listers to campaign in the crucial southern state, but Karnataka has clearly voted on state issues. The BJP battled massive corruption charges and infighting through five turbulent years of rule, and the results tell that story.