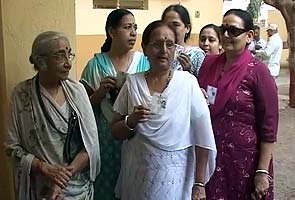 Ahmedabad:
A high 68 per cent voting was recorded in the first phase of polling as Narendra Modi faced the Saurashtra test today. Of the 87 seats that went to polls in the first phase of the Gujarat Assembly elections, 52 seats are in that politically significant region, made even more important by Keshubhai Patel breaking away from the BJP and contesting many seats. The other 35 seats are in south Gujarat. (
Pics: Phase 1 heavyweights
)
The raison d'etre of Mr Patel's new Gujarat Parivartan Party is to damage Mr Modi's chances at winning a third term. As a powerful Patel leader, he is banking on the support of his Leuva Patel community, which dominates 17 constituencies in Saurashtra and Kutch. In 2007, 11 Leuva Patels were elected from across parties - Congress, BJP and NCP. This time the BJP has fielded 10 Leuva Patels, the Congress 11 and Keshubhai's party has fielded 17. (
Watch: Will get majority and decimate BJP, says Keshubhai Patel
)
The Patels are a key 20 per cent of Gujarat's electorate and much of the Congress' anti-Modi strategy here is fashioned around Keshubhai Patel or the K factor as he is being called, being a game-changer. The Congress, plagued by infighting over ticket distribution in the run-up to polling, is hoping that Mr Patel will cut significantly into the BJP's vote share, giving it the advantage.
If Keshubhai, whose party contested 83 of the 87 seats that went to polls today, does manage to play to script, Mr Modi could have problems in over a dozen seats in the state. The BJP contested all 87 seats, the Congress contested 84 and left three for partner NCP to contest. (
Watch: BJP confident of getting thumping majority
)
Mr Modi, acutely aware that the rebel Keshubhai could play spoiler in Saurashtra, has focused his attention on the region, campaiging extensively there. The Chief Minister, who has addressed about a 100 rallies already, has also focused on central Gujarat, looking to offset any losses in Saurashtra.
The campaign so far has been high-pitched and intense. Mr Modi - seen as looking to use a win in these elections to lay the road to a larger role at the national level and perhaps even realise his ambition of being the BJP's candidate for prime minister in the 2014 general elections - has attempted to make this a Gujarat vs Delhi battle. He has targeted the UPA government at the Centre and its top leaders like Sonia Gandhi, the Prime Minister and Congress number 2 Rahul Gandhi. These leaders have all hit the campaign trail in Gujarat too, attacking Mr Modi's claims of development in Gujarat.
In fact, as a part of Gujarat voted today, both Mr Modi and Rahul Gandhi held rallies in North Gujarat, which will vote in the second and last phase on Monday next. Many have tried to cast the Rahul vs Modi battle as a clash of potential prime ministerial candidates.
The 84-year-old Keshbhai Patel contested from Visavadar, while his deputy, Gordhan Zadafiya, who was a minister in the Modi government contested from Gondal. Close Modi aide and his finance minister Vajubhai Vala is seeking re-election from the Rajkot west constituency. The Gujarat BJP chief, the Patel face in the party now, RC Faldu stood from the Rajkot rural constituency. And Gujarat Congress chief Arjun Modhvadiya and Leader of Opposition Shaktisinh Gohil were in the fray today from Porbandar and Bhavnagar respectively.
Three Congress MPs are also contesting Assembly elections, including Vithal Radadiya, who became famous this year for being caught on camera threatening a toll gate attendant with a gun.
Apart from the major parties, there are total 26 political parties and 383 independents in the fray, which include BJP rebel and sitting MLA Kanubhai Kalsaria, who has formed a new forum - Sadbhavna Manch - and fielded six candidates.
There are 846 candidates, only 46 of them women; 1,81,77,953 people are listed voters for today, 95,75,278 men, 86,02,557 women and 118 other voters. About 22 per cent candidates have criminal cases registered against them and a big 30 per cent are listed as "crorepati" candidates. 15 constituencies have been altered by delimitation.