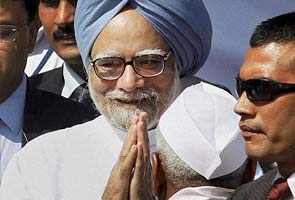 Vansada:
With less than a week to go for the Gujarat elections, Prime Minister Manmohan Singh today launched a frontal attack on the Narendra Modi government. Addressing a poll rally in Vansada in the state, Dr Singh today appealed to the voters of Gujarat to get rid of politicians indulging in divisive politics.
"We don't indulge in politics of dividing the society like the opposition parties... Such politics cannot benefit any political party for a longer period. Time has come that you people should rid Gujarat of such politics and don't let such people come to power who try to get votes by dividing our society and country," he said. Dr Singh was addressing his first poll rally in the state in Vansada.
The Prime Minister said the public health sector was not in a good state in Gujarat and new employment opportunities for the youth were also not being generated.
"Development in Gujarat is only for a few people. A big portion of the population here has remained untouched by this economic development. Because of the policies of the state government, there is an imbalance in the society," he said.
Also attacking the state's education infrastructure, Dr Singh said "Education infrastructure is not good here, tribal children have not been granted good education due to the state government."
The Prime Minister's rally in Gujarat comes two days after Congress President Sonia Gandhi's whirlwind tour of the state during which she had sharpened her attack on Chief Minister Narendra Modi who is seeking a fourth term in office.
At a poll rally in Mandvi in Surat district, Mrs Gandhi had charged the Modi government with making tall claims about development which were nowhere to be seen in the state.
Rahul Gandhi is expected to campaign at Sanand, Jamnagar and Amreli in Gujarat next week.
The first phase of elections will be held in Gujarat on December 13 followed by the second phase on December 17.
The results are scheduled to be declared on December 20.
(
With inputs from PTI
)