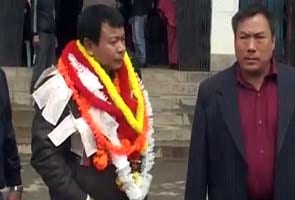 Imphal:
The Congress in Manipur braved all odds to make it to a third consecutive term by winning 42 of the 60 seats.
The Trinamool Congress won seven seats followed by the Naga Peoples' Front (NPF) with four seats. The Manipur State Congress Party (MSCP) had won four seats, while the Nationalist Congress Party managed just a solitary seat.
There was jubilation in Congress camps across the state after Chief Minister Okram Ibobi Singh retained his Thoubal seat, defeating his rival from the BJP Indira Oinam by a huge margin of over 15,000 votes.
Following suit, Ibobi Singh's wife Landhoni Devi also won the Khangabok seat by defeating rival Jatra Singh of Manipur People's Party (MPP) by a huge margin of over 9,000 votes. Khangabok was the constituency of the Chief Minister earlier.
Opposition parties received a severe jolt after three leaders, Radhabinod Koijam of the NCP, O Joy Singh and Th Chaoba Singh of MPP, lost to their rivals. Koijam, who is the leader of the Opposition in the outgoing Manipur assembly, is a former chief minister. Koijam was instrumental for bringing the 11 non-congress parties under one anti-Congress alliance - Peoples' Democratic Alliance (PDA).
Okram Ibobi Singh will be the second Chief Minister in the northeast to make it to the top seat for the third consecutive time in recent times after Assam Chief Minister Tarun Gogoi.
While the Gogoi brought the party to power in Assam in 2001, 2006 and 2011, Ibobi Singh had single-handedly brought the Congress to power in Manipur in 2002 and in 2007.
In Manipur, the Congress had a tough battle this time as at least 11 non-Congress parties have formed an alliance to stop the Congress from coming to power. The non-Congress parties included the NCP, Manipur People's Party (MPP), CPI, CPI-M, JD-U, National People's Party (NPP), Manipur State Congress Party (MSCP), Trinamool Congress, Lok Jana Shakti Party, BJP and the Naga People's Front (NPF).
What had made it worse for the Congress is the fact that at least seven militant outfits had imposed a ban on the party. The militants also attacked several Congress candidates and supporters ahead of the Jan 28 polls.