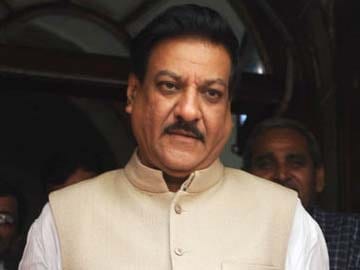 New Delhi:
Amid unease over reported remarks of Prithviraj Chavan about his predecessors and the Adarsh Society scam, the Congress today downplayed the issue, saying that the former Maharashtra Chief Minister has already given an explanation.
"Chavan has made it clear that he never said anything of this sort of sending them to jail. He has clarified it in a statement," party spokesperson Abhishek Singhvi told reporters at the AICC briefing in New Delhi.
A party functionary, speaking on the condition of anonymity, however, said that it was a "blunder" and "absolutely unnecessary" for Mr Chavan to give an interview like this before the voting for the Assembly polls.
In the interview to an English daily, Mr Chavan had reportedly said, "Adarsh brought under the scanner Vilasrao Deshmukh, Sushilkumar Shinde and Ashok Chavan -- the top Congress leadership in the state. If I had taken action against them, the party would have been decimated in Maharashtra.
"If I had sent them to jail, it would have hit the party organisation....The party would have split. Nobody articulated that openly then. Neither could I."
As his remarks raked up a controversy, Mr Chavan yesterday expressed "regrets", saying it was an inadvertent mistake.
"It happened inadvertently. My chat after the interview was recorded. It was a mistake. I have expressed my regrets. What happened was wrong," he told reporters on the sidelines of an event in Maharashtra.
Before expressing the regret, Mr Chavan had also claimed that he had been "misquoted".
The party functionary, however, said that his criticism of NCP was valid.
The party leader, at the same time, dismissed the contention that Mr Chavan could be warming up to the BJP and praised him as a "decent chap" and "sincere person", who did a lot of good work as then Chief Minister.
On the day the interview had appeared in the newspaper, a senior Congress leader had said that Mr Chavan's remarks were an attempt to find excuses for the near certain defeat of the party under his leadership in Maharashtra in the Assembly polls.