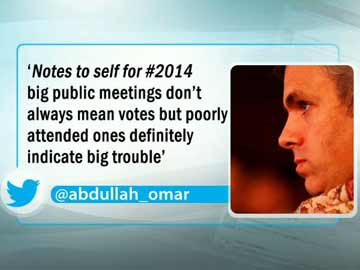 New Delhi:
As counting for assembly polls in four of the five states on Sunday revealed spectacular wins for the BJP and debutant Aam Aadmi Party (AAP), Jammu and Kashmir Chief Minister Omar Abdullah kept up a steady commentary on tweets, calling them 'notes to self' for the 2014 national election.
Arvind Kejriwal's spectacular debut in Delhi was clearly on Mr Abdullah's mind as he tweeted, "Notes to self for 2014 never underestimate the underdog/newcomer with a fresh face and message."
Mr Kejriwal's year-old AAP came in a close second after the BJP and decimated the Congress, which has ruled Delhi for 15 long years.
Mr Abdullah scoffed at pollsters who underestimated the AAP. "Which was the post poll survey that gave AAP 6 seats? You need to sack your pollsters, they clearly stayed at home to fill questionnaires," he tweeted.
The 43-year-old politician, who confessed his "morbid curiosity" in the results, noted what must be grim lessons for the Congress today as the BJP won decisively in Madhya Pradesh, Rajasthan and Delhi.
"Notes to self for 2014 - big public meetings don't always mean votes but poorly attended ones definitely indicate big trouble," Mr Abdullah tweeted.
He didn't get into specifics but poorly attended rallies had been a major concern for the ruling Congress as its leading face Rahul Gandhi campaigned in Delhi and some parts of Rajasthan.
Mr Abdullah also had this advice for political parties, "Notes to self for 2014 - voters will see through crude attempts to buy support with last minute populist schemes."
He concluded his musings with this, "And perhaps last lesson for today #2014, a divisive message won't work but you can't fight an election with a Gandhian campaign either."
Before signing off, he issued a disclaimer that if anyone was offended, his phone was "stolen and the thief had tweeted to embarrass him."