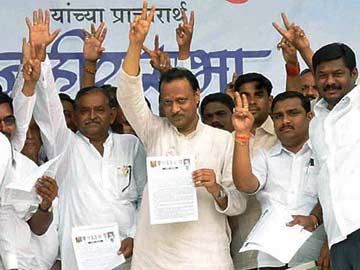 Mumbai:
The Election Commission has registered a case against former Maharashtra Deputy Chief Minister Ajit Pawar for violating Model Code of Conduct.
The Election Commission's action comes a day after the police recovered Rs.4.85 lakh from a car allegedly being used by Mr Pawar.
The police also seized some visiting cards and clothes of Mr Pawar from the intercepted vehicle along with the cash stashed in two bags, Parbhani Superintendent of Police Anant Rokde told the media on Thursday.
The driver of the vehicle has been identified as Krishna Hazare, who informed the police that the clothes belong to Mr Pawar and an aide.
While one bag in the vehicle - which was on its way to Latur from Parbhani where Mr Pawar attended a rally - had Rs. 400,000 in cash, another bag contained personal items of an aide and Rs. 85,000 in cash. The car was stopped at a check post on the Gangakhed-Parli Road in Parbhani.
The police have seized more than Rs 5 crore in cash in seven incidents across the state so far. The money was allegedly intended to be used to influence voters in the October 15 assembly elections.