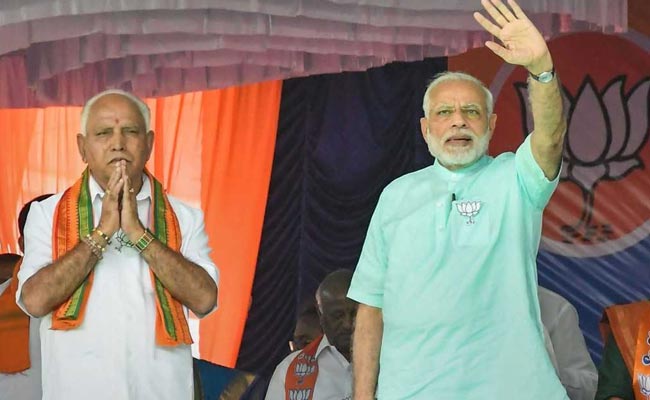 Highlights
Siddaramaiah contesting in two seats, fielding son in one, PM had said
Siddaramaiah's son Yathindra is contesting from safe seat Varuna
PM heaped criticism on Congress chief Rahul Gandhi and Siddaramaiah
Bangaluru:
Karnataka Chief Minister Siddaramaiah turned on the attack mode on Twitter again this morning after Prime Minister Narendra Modi's jibe about a "two-plus-one formula". Mr Siddaramaiah gave the formula a spin of his own -- one that dovetailed with his party's corruption allegations against the BJP.
PM Modi had been at his scathing best this morning, launching his campaign and heaping criticism on Congress chief Rahul Gandhi and Mr Siddaramaiah.
"While the party workers keep slogging, Chief Minister Siddaramaiah is following a two-plus-one formula by contesting in two seats and fielding his son from one. The ministers are following one-plus one formula by fielding their sons and daughters," PM Modi said.
The Congress has been defensive about the BJP accusations of dynastic politics. The party, which has fielded five top leaders along with their sons and daughters, contends that the young leaders have earned the ticket by working hard for the constituencies.
Mr Siddaramaiah, whose younger son Dr Yathindra Siddaramaiah is contesting from safe seat Varuna, responded swiftly. The two-plus-one formula, he said, could also apply to the BJP's fielding of two Reddy brothers -- the scam-tainted mining barons from Ballari -- and one Yeddyurappa.
Today PM avoided talking about his complicity in closing CBI cases against the Reddy bros. Instead he spoke about some 2+1 formula.

Here is the explanation to his formula to win election. 2 Reddys + 1 Yeddy.#2Reddy1Yeddyhttps://t.co/FozyhwOyHA

— Siddaramaiah (@siddaramaiah) May 1, 2018
Another tweet read:
Was it fear that drove you to contest from 2 parliamentary constituencies (Varanasi & Vadodara) Mr. PM @narendramodi ? Of course you are a 56 inch man, you would have some clever explanation!!



Forget 2 seats, Sir. Worry about the fact that your party will not cross 60-70! https://t.co/Hr3V5x6sDE— Siddaramaiah (@siddaramaiah) May 1, 2018
Mr Siddaramaiah has been on an attack spree on Twitter since yesterday, slamming the BJP for corruption charges against the party's presumptive Chief Minister Yeddyurappa and mining baron Janardhan Reddy.
Two of the Reddy brothers --- Gali Somashekhara Reddy and Gali Karunakara Reddy -- have been fielded from constituencies in the Ballari area. Gali Janardhana Reddy, against whom most of the corruption allegations are levelled, is a top campaigner for the party. The BJP has cited political expediency, saying they are needed to win the seats in the area.
One tweet of Mr Siddaramaiah even asked the BP to come clean on whether they really wanted Mr Yeddyurappa to be the Chief Minister. It cited news reports on speculations that PM Modi does not intend to share stage with him in view of the corruption allegations.
Mr Yeddyurappa was present at this morning's rally which was addressed by the Prime Minister.