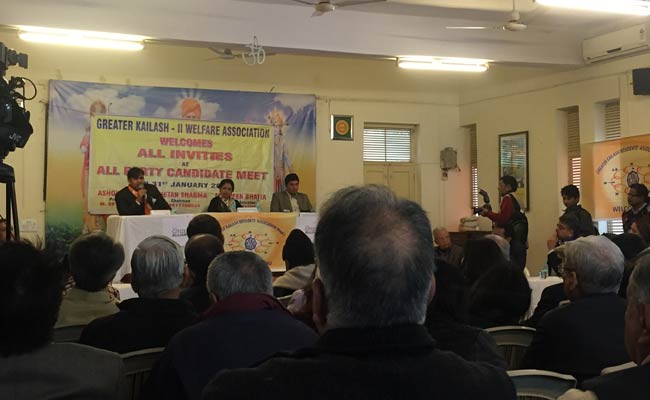 New Delhi:
The much-anticipated debate between former IPS officer and BJP's chief ministerial candidate for Delhi Kiran Bedi and Aam Aadmi Party chief Arvind Kejriwal may not happen after all, as Ms Bedi has said she prefers a debate in the Delhi Assembly instead.

The Residents Welfare Association (RWA) of Greater Kailash, however, managed to set up a debate between the three main contenders from the constituency.

The structured debate between BJP's Rakesh Gulliya, AAP's Saurabh Bharadwaj, and Congress' Sharmishtha Mukherjee was conducted along the lines of the US Presidential debate.


Organised by the RWAs and Citizens Alliance, all three candidates had been given specific questions a few days before the debate. Some of the topics that were debated were -- the need of a legal framework for RWAs, Local Area Development funds, detailed solution of parking problems, traffic issues, and views on the Bus Rapid Transport corridor which goes through the assembly premises and has been at the centre of a raging controversy.
"We had already moved a proposal to remove the BRT corridor which has been causing more chaos on the streets," said Mr Bhardwaj. But he did not commit to a time-frame for its removal.
"I will not say that it will happen in 15 days as we don't want to resign again," the AAP candidate said, referring to the party's decision to resign after being in power in Delhi for 49 days in February last year.
BJP's Rakesh Gulliya said that apart from his own direct intervention in problem solving, he would ensure that the benefits of central schemes reached the residents of the constituency.
Sharmishtha Mukherjee, the daughter of President Pranab Mukherjee, said that as a resident of Greater Kailash, she too had a stake in improving the locality. "There have to be wide-ranging consultations to see how we can overcome problems which are not unique to just GK," she said.
The debate, which went on for little over an hour, was peaceful.
All three candidates were questioned thoroughly by residents, many of whom wanted concrete solutions to issues like waste management, parking, and uninterrupted and cheaper electricity.
"I think such debates will only encourage more residents to be a part of the entire election exercise and get them to come out and vote," said Meenakhsi Kalia, a local resident.
"This is the best way for citizens to understand the candidates better, and how they plan to solve their problems,"said Rajiv Kakria, a member of the GK 1 Residents Welfare Association.