Highlights
Most funds released for Andhra Pradesh remain unutilised: Amit Shah
Amit Shah also said TDP's decision to quit NDA alliance was "political"
Chandrababu Naidu, however, said Amit Shah was spreading misinformation
New Delhi:
BJP chief Amit Shah's letter criticising Chandrababu Naidu's decision to quit the NDA coalition has not gone down well with Andhra Pradesh chief minister. Mr Shah attacked the Telugu Desam Party chief this morning, claiming that most funds released by the central government as special development assistance remain unutilised. "Why are you spreading lies?" Mr Naidu shot back this afternoon.
"
Amit Shah in his letter
says centre gave many funds to the state, we couldn't utilise them. They're trying to say Andhra Pradesh government is incapable. Our government has good GDP, agriculture and many national awards. That's our capability. Why are you spreading lies?" Mr Naidu said.
In his letter, Mr Shah had said the central government released Rs 1,050 crore in the first three years of coming to power as special development assistance for seven backward districts of Andhra Pradesh. "Surprisingly, the state has spent only 12 per cent of this amount and 88 per cent remains unutilized," Mr Shah had written.
Calling Mr Naidu's decision to break ties "
unfortunate and unilateral
", the BJP chief had said it was "guided wholly and solely by political considerations instead of development concerns".
But Mr Naidu, asserting that his TDP called off the alliance over special status for the state, said the centre is still providing special benefits to North Eastern states.
"Amit Shah's letter is full of false information which shows their attitude. Even now centre is providing special benefits to North Eastern states. Had Andhra Pradesh been given the same hand holding, many industries would have come to the state," Mr Naidu retorted.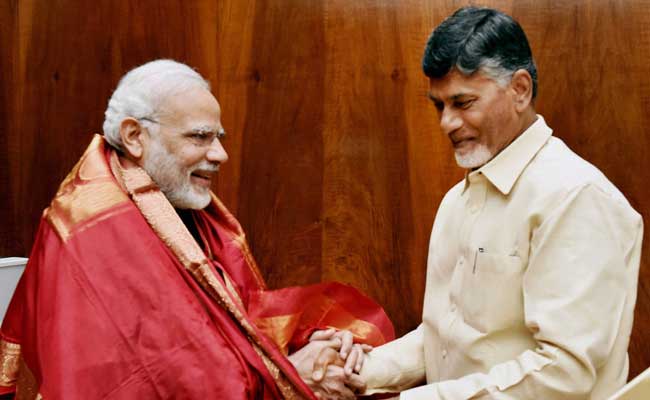 The TDP, once the BJP's biggest ally in south,
pulled out of the government earlier this month
.
Mr Naidu's party is also trying to bring a no-confidence motion against the government in parliament, after arch-rival Jagan Mohan Reddy's YSR Congress sent a notice. However, the no-confidence motions against the government have not been taken up so far due to repeated adjournments in parliament.
Assembly elections are due in Andhra Pradesh next year and regional parties in the state, including the YSR Congress, have repeatedly targeted the TDP for being unable to secure a special category status for the state. The tag would have meant a greater infusion of central funds, something that was promised by the centre earlier.
The demand for the special category status for the southern state has been a big issue ever since the bifurcation of the state which gave birth to Telangana 2014. Mr Naidu said Andhra was promised a special category status, but the centre has refused what it was promised.
"The decision of TDP to quit NDA is unfortunate as well as unilateral, wholly and solely guided by political considerations instead of developmental concerns of Andhra Pradesh", Shri @AmitShah writes an open letter to Andhra Pradesh CM Chandrababu Naidu https://t.co/M9M4tsisUY

- BJP (@BJP4India) March 24, 2018