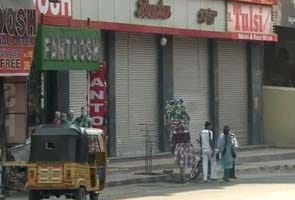 Hyderabad:
Life across Andhra Pradesh's Telangana region was affected on Tuesday due to the shutdown called by the Telangana Rashtra Samithi (TRS) to protest the central government's insensitivity towards the demand for a separate Telangana state, which is driving youth to commit suicide.
The shutdown had little impact in Hyderabad but was felt hard in the nine other districts of the region. Barring attacks on a few shops in Khammam, the shutdown remained peaceful.
Shops, banks, petrol bunks, other business establishments, cinema theatres and educational institutions remained closed in most parts of Telangana.
State-owned Road Transport Corporation (RTC) buses were plying normally as the TRS has exempted the bus transport service from the shutdown in view of the ongoing Class 10 class examination. The protestors, however, stopped private vehicles.
In Hyderabad, there was hardly any impact. Educational institutions remained shut as a precautionary measure but shops and other business establishments worked as usual. Traffic on roads was also normal.
Police tightened security at Osmania University, the nerve centre of the earlier phases of agitation for a separate state. Police arrested TRS workers when they tried to take out a rally in Tarnaka near the university campus.
The impact was more in Warangal, Karimnagar and Medak districts. Police have made elaborate security arrangements to prevent any untoward incident.
In Warangal district, where two persons committed suicide to protest the delay in the formation of a Telangana state, the shutdown was total.
Autorickshaws remained off the roads in the entire district to protest the self-immolation of auto driver Rajamouli in Hanamkonda town on Monday. A MBA student had committed suicide in Warangal town on Saturday.
A daily wage earner also set himself on fire in Wanaparthy town of Mahabubnagar district on Monday but escaped with injuries.
Telangana Joint Action Committee, Telangana leaders of Congress, Telugu Desam Party, Bharatiya Janata Party (BJP), Communist Party of India (CPI), Osmania University Joint Action Committee and other groups are supporting the shutdown.
TRS and BJP activists took out bike rallies in Warangal, Karimnagar, Medak, Nizamabad, Adilabad and other districts. The protestors set afire effigies of the central and state governments to protest what they call "callousness" towards the demand for a separate state.
Several industrial units also remained closed in Patancheru industrial area in Medak district.
TRS claimed that the shutdown evoked support from all sections of people and the businessmen voluntarily downed their shutters.
CPI activists attacked some shops which were open in Khammam town. A hotel in Manchiryal town of Adilabad district was also damaged.